While I wait for USD crosses to stabilize and show further action following the US data dump today (claims, IP, TIPS, CPI), one currency cross has caught my attention - the EUR/CAD.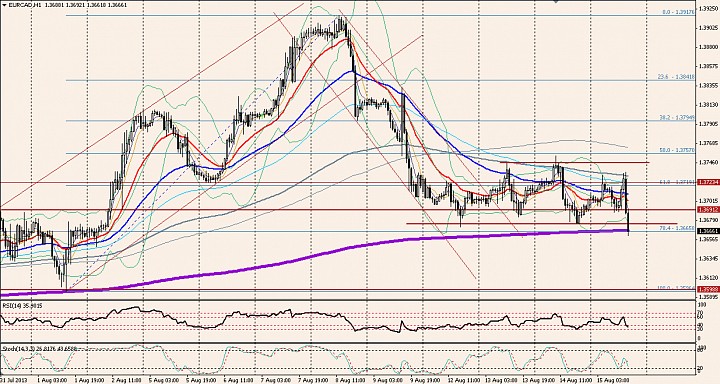 This pair has had 3 distinct phases over the last 3 weeks - first an uptrend after breaking through important resistance at 1.3690 with the uptrend topping out at 1.3915. Then we had a 2-session downswing, followed by 4 sessions of sideways action. Well, it looks like we may be puncturing that sideways range to the downside which could open up a move back to the 1.36 handle (for starters).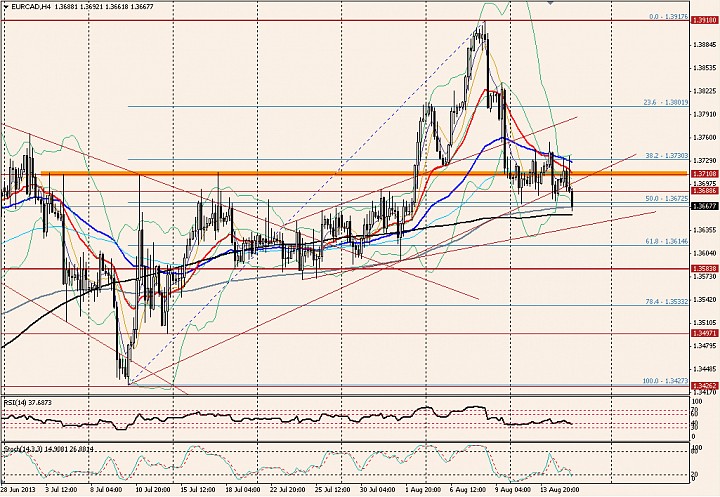 Zooming out to the 4-hour chart we see some more context.
While I mentioned the 1.3690 level as important resistance, we really had another key level at 1.3710, which wound up acting as the middle of the recent range.
We have pushed below the 55-EMA (in blue) and 21-EMA (in red) and the 21 has actually crossed below the 55, a bearish sign.
We continue to trade above the 200-EMA (in gray)/200-SMA  (in black) and are actually testing that trendline.

The pair managed to break a trendline that connected the lows from July 10th and August 1st.
Bottom Line: Are we seeing the beginning of a bearish continuation after consolidation, or will this just be a fake breakout and then we resume the bullish trend we had throughout most of the summer? If its the former, lets look for targets down to 1.36/1.3580, but if the latter, and we see price find support here and move back into the range, then we wil have to monitor the resistance levels (the highs from the range, plus the aforementioned EMA's). My current bias is slightly bearish, only because I can see the USD getting stronger against the EUR (and the CAD and USD have pretty good correlation of late).
- Nick