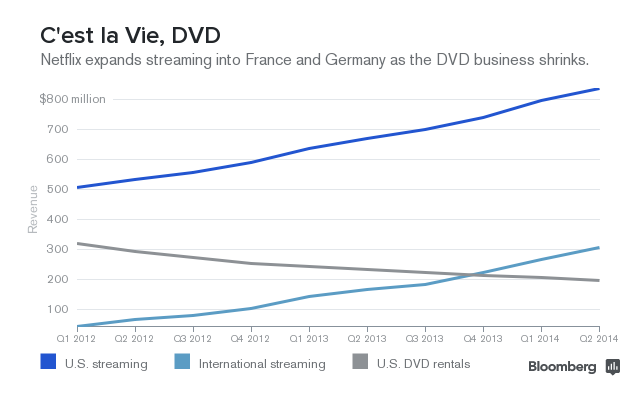 Americans are dropping their DVD-by-mail plans. Last quarter, 391,000 people abandoned the disc rental service, which costs at least $8 a month.

Non-U.S. streaming revenue passed the DVD-by-mail business at the end of last year. When measured by the number of subscribers, the shift happened a couple of quarters earlier. That gap represents a larger issue for Netflix — how to squeeze more money from overseas customers and get the international business out of the red. Global streaming is unprofitable for Netlfix, though less so last quarter than in previous ones, according to the earnings report. 

Netflix added 1.12 million international subscribers in the quarter that ended in June, nearly double the additions in the U.S. during the same period, the company said in its earnings report today. That could jump higher next quarter as Netflix prepares to debut streaming in six new markets, including big ones such as Germany and France.