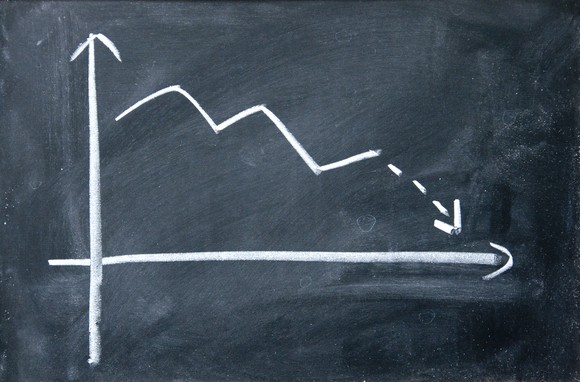 Earlier this month, Pacific Crest issued a note for investors highlighting its concerns for Apple (NASDAQ:AAPL) suppliers as the iPhone 7 launch date approaches. Usually, Apple's high tide of iPhone sales have helped lift its suppliers up along with it, but the company's drop in iPhone sales last quarter hurt InvenSense (NYSE:INVN) and other Apple suppliers. InvenSense's revenue declined 20% year over year in part because of the iPhone sales drop.
Pacific Crest said in its investor note that the upcoming iPhone 7 concerns put estimates at risk for InvenSense and eight other suppliers. The research group was formerly bullish on iPhone 7 demand, but has since said that there will be "much more disappointing" iPhone sales in late 2016.
InvenSense's stock lost 6% after the note was released (it's since gained that back). But it's difficult to separate InvenSense's fate from the iPhone because the component maker earned about 40% of its total revenue from Apple in fiscal 2016. Most of the current projections for Apple's next device don't bode well for InvenSense, either.
InvenSense needs Apple badly
InvenSense has relied on Apple's business for years. That used to be a huge blessing but has since turned into one of InvenSense's biggest curses. InvenSense's revenue dropped 20% year over year the same quarter that iPhone sales fell.
The problem for InvenSense is that most analysts are predicting disappointing sales estimates for Apple's next device.
Ming-Chi Kuo, an analyst at KGI Securities (with a pretty reliable track record), says that worst-case scenario would put 2016...
More