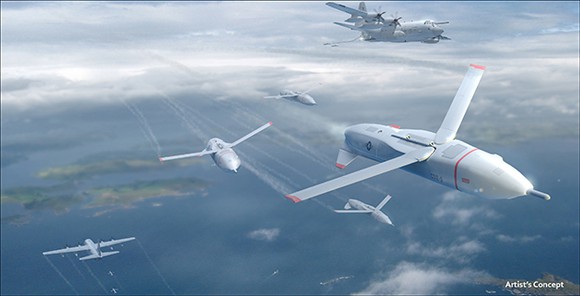 There are no two ways about it: Kratos Defense and Security's (NASDAQ:KTOS) Q1 earnings report was a disaster. Sales slipped only 3% year over year, but the company failed to earn any profit at all, instead losing $0.37 per share, a 32% bigger loss than in last year's Q1.
Investors dropped the stock like the proverbial hot rock, and Kratos ended the week down 20%. But as bad as the headline numbers were, Kratos also revealed some good news: It has won a place at the table on DARPA's revolutionary new "Gremlins" project. What is Gremlins, how much is it worth to Kratos, and when might the money begin flowing? To find out, we listened in on Kratos' post-earnings conference call and gathered the details.
Here are five things we found out and thought you'd like to know.
Thing 1: Small drones, big profits?
Kratos has successfully received a Phase 1 contract on DARPA's Gremlins program, a very important strategic win for our company furthering Kratos' entry into the tactical unmanned combat aerial market. Gremlins Phase 1 is to explore different systems approach as to launch and recover in-flight multiple low-cost high-performance unmanned tactical aerial systems that will be networked and cooperating for electronic attack and reconnaissance missions from stand-off ranges.
-- CEO Eric DeMarco
We all know that Kratos has expertise in building unmanned aerial vehicles (UAVs). The company has invested millions of dollars in developing a proprietary combat drone -- jet-powered, and capable of carrying weapons -- that it calls the UTAP-22 Tornado. In the earnings call, though, Kratos CEO Eric DeMarco described another competitive advantage his company has over rival bidders on Gremlins.
Thing 2: Small drones -- acting cooperatively
We have a collaborative communication technology that's ours. We call it Wolfpack. We haven't talked about that much. And it has to do with command and control of up to approximately a dozen drones at a time. And how it's secure, how they can be truly autonomous, how if some of them go down others can replace them and replace their mission.
-- DeMarco
Like UTAP-22, this technology appears to have been developed in-house, and this gives Kratos a leg up over the competition in proving that its version of...
More