Cybersecurity stocks were seen soaring on Jul 7, after Mondelez International, Inc. MDLZ revealed that its second-quarter 2017 revenues were hit by the global ransomware attack – Petya – which created global havoc in late June. The food and beverage company noted that its shipping and invoicing were disrupted during the last four days of June due to the computer virus.
The company estimates that second-quarter revenue growth would be down 3%, as a result of this issue. Additionally, the company expects to incur incremental one-time costs related to the attack in the second and third quarter of 2017.
Also, in a few of the markets, the company permanently lost some of its revenues due to holiday feature timing. Even so, it anticipates recognizing the bulk of these delayed shipments in third-quarter results.
What Was Petya Ransomware Attack
It should be noted that the Petya ransomware attack shocked the world in late June which halted daily work at several companies and government offices across the globe.The malicious software reportedly seized control of computers and encrypted files with a password which only hackers had access to.
After that, victims were asked to pay ransom in order to regain control of their systems. The hackers demanded ransom in bitcoin.
It is to be noted that Mondelez is one of the companies which has been adversely affected by the latest attack. Companies like FedEx FDX and Merck & Co. MRK had also reported that the attack may have a material impact on their financial performances. Starting from Ukraine, the Petya cyber attack has spread to over 60 countries across the Europe, Asia Pacific and the U.S.
Petya ransomware attack came just a month after the WannaCry hack which locked up more than 200,000 computers, paralyzing factories, hospitals, shops and schools in over 150 countries, in May.
Cybersecurity Stocks Soared
The recent cyber attacks proved that government or private – most organizations across the whole world lack proper security measures.
But believe it or not, there does appear to be a positive side to this episode. A cyber attack is good news for cyber security companies, because it increases the chances of security-related purchases by the companies and governments. Hence, investors flock to these shares, shooting up share prices.
Mondelez's Friday revelation gave a fresh boost to cybersecurity stocks, with major players in the space, such as Barracuda CUDA, FireEye FEYE, Palo Alto Networks PANW and Symantec SYMC rising 5.5%, 4.5%, 2.7% and 2.5%, respectively.
We expect to see this upswing in share prices of the Cybersecurity stocks to continue during today's trading session as well.
Computer and Technology Sector 5YR % Return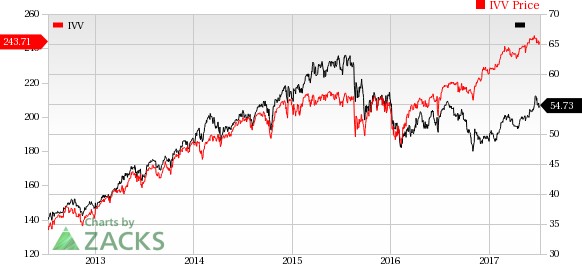 Bottom Line
The silver lining to this whole episode will be rise in demand for security-related products among companies and governments, in our opinion. We believe that this could bring cybersecurity stocks back into the limelight, which witnessed a dismal run in 2015. Though cybersecurity stocks seem to be recovering since Apr 2016, most stocks are still trading very low to their all-time highs.
It should be noted that the financial well-being, brand image and reputation of enterprises, and governments are always exposed to the risk of cyber threats. Consequently, cybersecurity has become a mission-critical, high-profile requirement.
Clearly, cases of such attacks drive the need to beef up cyber safety measures, in turn increasing demand for the services offered by cybersecurity companies.
Furthermore, with rapid technological advancement, organizations are increasingly adopting the "bring your own device" (BYOD) policy to enhance employee productivity with anytime/anywhere access. This trend, in turn, calls for stricter data security measures.
In addition, various independent research firms forecast strong demand ahead. According to a Markets and Markets report, worldwide cybersecurity spending will reach $101 billion in 2018 and $170 billion by 2020. Gartner had earlier mentioned that IT security spending peaked to $75 billion in 2015.
Considering the aforementioned factors, it makes sense to invest in this hot industry group as cybersecurity players are likely to witness sturdy growth in the near term. Some better-ranked stocks in the cybersecurity space are Fortinet FTNT and ManTech International Corporation MANT, carrying a Zacks Rank #2 (Buy). You can see the complete list of today's Zacks #1 Rank (Strong Buy) stocks here.
Will You Make a Fortune on the Shift to Electric Cars?
Here's another stock idea to consider. Much like petroleum 150 years ago, lithium power may soon shake the world, creating millionaires and reshaping geo-politics. Soon electric vehicles (EVs) may be cheaper than gas guzzlers. Some are already reaching 265 miles on a single charge.
With battery prices plummeting and charging stations set to multiply, one company stands out as the #1 stock to buy according to Zacks research.
It's not the one you think.
Want the latest recommendations from Zacks Investment Research? Today, you can download 7 Best Stocks for the Next 30 Days.
Click to get this free report
Fortinet, Inc. (FTNT): Free Stock Analysis Report
FireEye, Inc. (FEYE): Free Stock Analysis Report
Palo Alto Networks, Inc. (PANW): Free Stock Analysis Report
Barracuda Networks, Inc. (CUDA): Free Stock Analysis Report
Merck & Company, Inc. (MRK): Free Stock Analysis Report
ManTech International Corporation (MANT): Free Stock Analysis Report
Symantec Corporation (SYMC): Free Stock Analysis Report
Mondelez International, Inc. (MDLZ): Free Stock Analysis Report
FedEx Corporation (FDX): Free Stock Analysis Report
To read this article on Zacks.com click here.