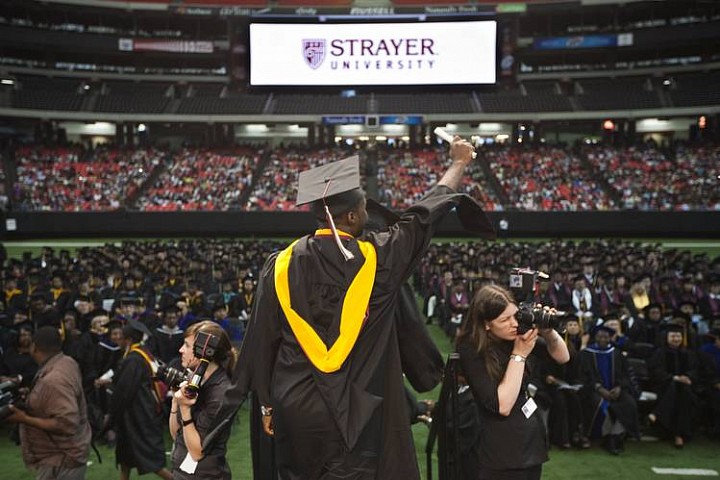 Strayer Education Inc. STRA 0.97% is nearing a deal to merge with Capella Education Co. , according to people familiar with the matter, a move that would create a for-profit education company valued at nearly $2 billion.
A deal between the companies would be structured as a stock-for-stock merger and could be announced as soon as Monday, one of the people said. Capella shareholders would receive a premium and the companies' investors would own roughly the same percentage of the combined entity, this person said.
Strayer, based in Herndon, Va., offers online and campus-based certificates and degrees including M.B.A.s. The university was founded in 1892 and caters to working adults completing their degrees. It has a market value of about $1 billion after its stock rose about 63% in the past year.
Strayer is affiliated with former General Electric Co. Chief Executive Jack Welch, who in 2011 moved the Jack Welch Management Institute, which offers executive M.B.A.s, from Chancellor University to Strayer.
Minneapolis-based Capella has a market value of about $765 million after its stock fell 7% in the past year. The company, founded in 1991, offers online degrees targeted at working adults. As of June 30, the school had about 37,600 students, more than 70% pursuing master's or doctoral degrees, according to the company's website.
Leadership for the well-regarded universities would remain in place and they would run in their existing forms, one of the people said.
In addition to providing cost savings from combining back-office operations, a deal would give Strayer, which is largely focused on bachelor's degrees, more of a presence in the advanced-degree market and graduate education, one of the people said.
The for-profit education sector has been under pressure. A paper published last year by the National Bureau of Economic Research found that students who attended for-profit colleges were less likely to be employed and earned smaller paychecks after attending them.
For-profit colleges saw a bump in their stock prices when Donald Trump was elected president. Many in the industry expected President Trump to be more lenient on for-profit colleges, given his involvement with Trump University, which was run like a for-profit college but didn't offer degrees. In March, Mr. Trump delayed enforcement of rules on for-profit colleges that were designed to cut off access to federal money for career-training programs if multiple classes of graduates spend at least 20% of their discretionary income paying off student debt.
Earlier this year, a federal judge approved a $25 million settlement between Trump University and about 4,000 students that will reimburse students for about 90% of money they paid for the school. Mr. Trump had said he wouldn't settle, but his stance changed after he won the election. He said on Twitter at the time the settlement was reached that he had to focus on running the country, noting it was "Too bad!" he couldn't bring the case to trial.
More