Over the last few months, the market has consistently shrugged off rising concerns and questions, climbing to record high after record high. Amid escalating tensions with North Korea last week however, came the largest single day drop in the market since May. In this week's Monday Morning Kickoff we dig into how the confluence of economic data, earnings reports and geopolitical unrest came to a head and what could be in store for investors as we move into September, traditionally the market's worst performing month of the calendar.
Despite concerns of rising valuations and a mismatch between US growth prospects and earnings expectations, the markets had climbed fairly steadily throughout the second quarter and into the current quarter. That was, of course, until last week when we saw a change in market sentiment as North Korea and its weapons development took center stage. Those headlines and the back-and-forth between the Trump White House and North Korea clearly shifted the market's attention and brought about a heightened level uncertainty.
Amid that refocus, we saw a number of high profile earnings reports that missed their respective Wall Street targets, including Macy's (M), JC Penney (JCP), Kohl's (KSS) Snap (SNAP) and Blue Apron (APRN) among others. We also received further domestic economic data on the inflation front that calls into question the Fed's rate hike timing, and it's the September debut of its balance sheet unwinding. The net result of all the political and economic news of last week led all the major U.S. stock indices to fall 1.1 to 1.5 percent.
Let's share some context and perspective on that move – per data from Alliance Bernstein that dates back to 1928, the S&P 500 falls 5 percent or more every 10 weeks and the index falls 10 percent every 33 weeks. Looking back on the stock market of today, it has been more than a year since the last 5 percent downdraft in stocks and more than 76 weeks since the stock market suffered a 10 percent loss.
Last Thursday the markets experienced their steepest decline in three months, with the CBOE S&P 500 Volatility Index (VIX) hitting its highest level since the election, rising 44 percent in just one day. By Friday's close, the volatility index had risen over 60 percent during the week and stocks had experienced their second worst week of the year.
Bear in mind, over the past decade, the U.S. stock market on average has experienced a 5 percent pullback in August. So far this year has seen the calmest period in terms of daily movements in 53 years. Volatility has been so suppressed that the inverse VIX ETFs are now the world's 34th most actively traded investment vehicle, having more than doubled in price in 2017 through August 4th. The chart below shows just how astounding the low volatility has been in 2017 relative to years past.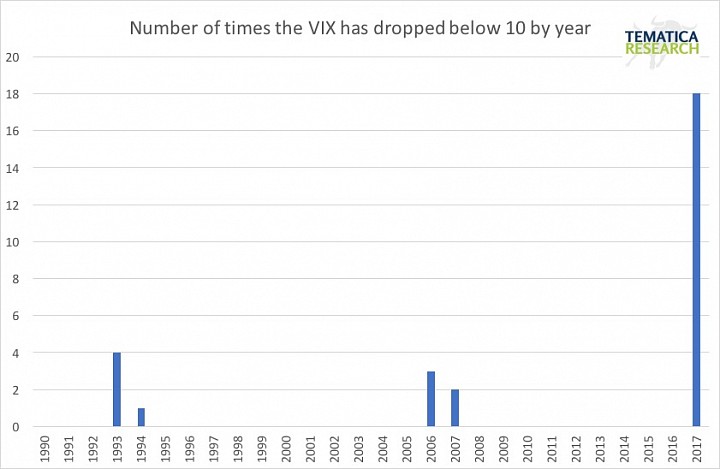 Given the run the market has had thus far despite the mounting concerns we've raised in prior issues of the Monday Morning Kickoff, on our Cocktail Investing Podcast and with subscribers of Tematica Investing, we're not surprised by the market action last week. Candidly, we suspect prudent investors are using the current U.S. – North Korea standoff to book gains and build cash ahead of September.
Why September? Not only is September historically speaking one of the most challenging months for the stock market, it's also when we are now expected to get the Trump Administration's initial tax reform plan at the same time Congress is forced to deal with the debt ceiling and perhaps we see the Fed charter a path it has never been on before as it starts to reduce its balance sheet.
September is also a month that will be filled with investor conferences, at which we expect companies will shed some light on how their businesses are shaping up during the current quarter and the back half of the year. Remember, expectations for earnings growth in the second half of the year for the S&P 500 group of companies has been and remains high. Per FactSet:
For 3Q 2017, analysts are projecting earnings growth of 5.2 percent and revenue growth of 4.9 percent;
For 4Q 2017, analysts are projecting earnings growth of 11.2 percent and revenue growth of 5.3 percent.
What those figures don't tell you is EPS growth for the S&P 500 group of companies in the second half has been revised lower to 7.5 percent vs. the first half of 2017. That's down from more than 10 percent expected growth as we launched into 2Q 2017 earnings season.
What Can We Look...
More