GoPro (GPRO) has been sideways throughout 2017, which is a good sign considering it was bearish entering the year. Still, price did make a record low of 7.15 in March. But since then, we have seen a higher low, and a higher high, a change from the prevailing bearish mode.
GoPro (GPRO) Daily Chart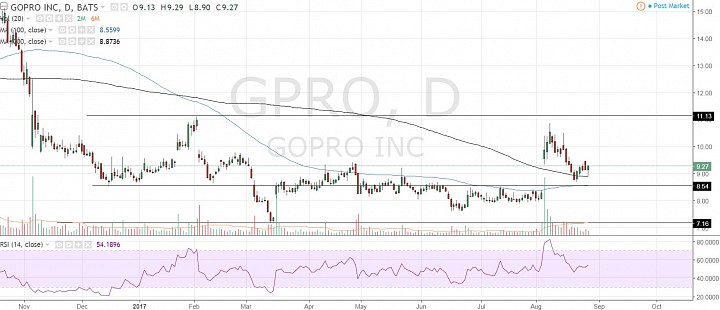 (click to enlarge)
Signs of Bulls:
- Earlier in August, GPRO had a strong jump following a better-than-expected earnings report.
- This bullish breakout could have started a bullish recovery.
- We noted that we should monitor the current pullback especially if price falls into the 8.50-9.00 area. And it has.
- If price holds above 8.55, it would reflect a price bottom development.
- Also, if the RSI holds above 40, it would reflect maintenance of the nascent, August bullish momentum.
- The upside would first be limited to the 11-11.15 resistance area.
- We should probably cap any bullish expectation at 15, which is another common resistance, but lower than the high in 2016, so it would still be within the context of the prevailing bearish trend.
- Basically, we are seeing a short-term bullish scenario being developed, but we should still respect the prevailing bearish trend and therefore limit the bullish outlook.