Trimble Navigation's TRMB third-quarter 2017 earnings of 39 cents surpassed the Zacks Consensus Estimate by a couple of cents. Also, earnings increased 20.7% year over year.
During the third quarter, Trimble completed the acquisitions of Müller-Elektronik and 10-4 Systems. These acquisitions will extend the company's capabilities in serving its customers in the agriculture and transportation business. These acquisitions will be accretive to earnings in 2018.
Also, the company's initiatives toward lowering the cost structure to another framework, along with increased adoption of technology in the agricultural market, product enhancements and international expansion should see it through the current market environment.
Following strong third-quarter earnings on Oct 26, the company's share price has risen 4.1%. Also, Trimble's shares have returned 42.3% year to date, outperforming the industry's gain of 27.2%.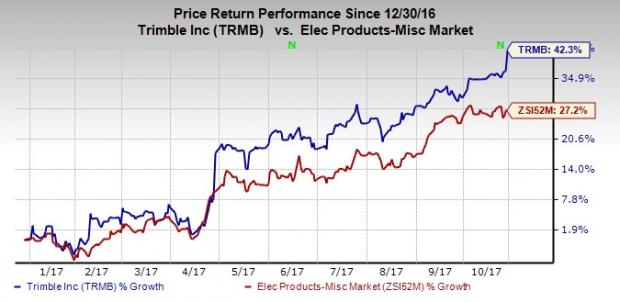 Revenues
Trimble's second-quarter revenues came in at $670 million, reflecting an increase of 1.2% sequentially and 14.7% year over year. Also, revenues came in above the Zacks Consensus Estimate of $660 million and within the company's guided range of $645-$675 million.
Revenues by Segment
In the beginning of first-quarter 2017, the company changed its reporting segments. The results are based on these four new segments — Buildings and Infrastructure, Geospatial, Resources and Utilities and Transportation segments.
The quarter's Buildings and Infrastructure revenues of $214.5 million increased 13.0% year over year. Geospatial revenues of $169.7 million increased 6.0% year over year. Resources and Utilities segment revenues increased 31.0% from the year-ago period to $114.4 million, while Transportation revenues were $171.4 million, reflecting an increase of 16.0% year over year.
Margins
Trimble's pro forma gross margin was 56.1%, down 80 basis points (bps) year over year. The decrease was due to an unfavorable mix of products in some businesses.
Trimble's adjusted operating expenses of $252.5 million increased 14.0% year over year. Operating margin was 18.4%, down 60 bps year over year.
Net Income
Pro forma net income was $99.6 million compared with $84.0 million in the year-ago quarter.
The pro forma estimate excludes restructuring charges, amortization of intangibles, gain on an equity sale, litigation charges, acquisition-related costs and other adjustments on a tax-adjusted basis, but includes stock-based compensation. Our pro forma estimate may not match management's calculation as we have included or excluded certain items that were not considered by the company while presenting the results.
On a GAAP basis, Trimble recorded net profit (for Trimble shareholders) of $55.7 million (22 cents per share) compared with $39.2 million (15 cents) a year ago.
Balance Sheet
Trimble exited the third quarter with cash and cash equivalents of approximately $409.2 million compared with $486.1 million in the prior quarter. Inventories were $254.7 million, up from $223.3 million in the last quarter. Accounts receivables were $407.2 million, up from $395.3 million in the previous quarter.
Cash flow from operations was $310.0 million against $145.8 million in the prior quarter.
During the third quarter, the company also repurchased approximately 2.2 million shares for approximately $84 million. Trimble still has $19 million remaining under its current share repurchase authorization.
4Q Guidance
Management expects fourth-quarter revenues in the range of $655-$685 million. The Zacks Consensus Estimate stands at $646.6 million.
Earnings per share are expected within 16-20 cents on a GAAP basis and within 34-38 cents on a non-GAAP basis. The Zacks Consensus Estimate is pegged at 35 cents.
The calculation of non-GAAP earnings per share excludes the amortization of intangibles worth $40 million that includes the effect of previous acquisitions, anticipated acquisition costs of $3 million, the anticipated impact of stock-based compensation expense of $21 million and restructuring charges worth $2 million. The projected GAAP and non-GAAP figures take into consideration a tax rate of 16% and 23%, respectively.
Trimble Navigation Ltd. Price, Consensus and EPS Surprise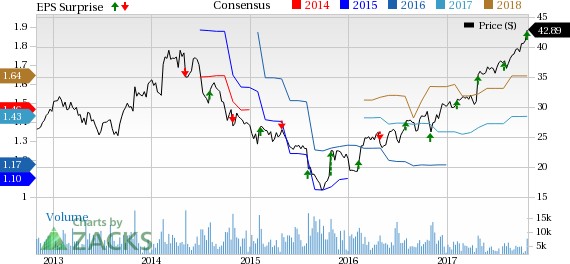 Trimble Navigation Ltd. Price, Consensus and EPS Surprise | Trimble Navigation Ltd. Quote
Zacks Rank and Other Stocks to Consider
Currently, Trimble carries a Zacks Rank #3 (Hold). A few better-ranked stocks in the broader technology sector are NVIDIA Corporation NVDA and Applied Materials, Inc. AMAT, both sporting a Zacks Rank #1 (Strong Buy), while FactSet Research Systems Inc. FDS, carrying a Zacks Rank #2 (Buy). You can see the complete list of today's Zacks #1 Rank stocks here.
Long-term earnings per share growth rate for Applied Materials, NVIDIA Corporation and FactSet Research Systems is projected to be 17.1%, 10.3% and 10.8%, respectively.
Zacks' Best Private Investment Ideas
While we are happy to share many articles like this on the website, our best recommendations and most in-depth research are not available to the public.
Starting today, for the next month, you can follow all Zacks' private buys and sells in real time. Our experts cover all kinds of trades… from value to momentum . . . from stocks under $10 to ETF and option moves . . . from stocks that corporate insiders are buying up to companies that are about to report positive earnings surprises. You can even look inside exclusive portfolios that are normally closed to new investors.
Click here for Zacks' private trades >>
Want the latest recommendations from Zacks Investment Research? Today, you can download 7 Best Stocks for the Next 30 Days.
Click to get this free report
FactSet Research Systems Inc. (FDS): Free Stock Analysis Report
Trimble Navigation Ltd. (TRMB): Free Stock Analysis Report
NVIDIA Corporation (NVDA): Free Stock Analysis Report
Applied Materials, Inc. (AMAT): Free Stock Analysis Report
To read this article on Zacks.com click here.
Zacks Investment Research