Celgene Corporation CELG reported second-quarter 2017 earnings of $1.68 per share (including share-based compensation expense and tax adjustments), beating the Zacks Consensus Estimate of $1.61 and up from $1.28 per share in the year-ago quarter.

Celgene's share price movement shows that the stock outperformed the industry over the last one year. Specifically, the stock has gained 19.1% during this period compared to the industry's gain of 12.0%.
Excluding share-based compensation expense, Celgene's earnings climbed approximately 26.4% year over year to $1.82 in the reported quarter.
Total revenue grew 18.7% to $3.27 billion in second-quarter 2017 and surpassed the Zacks Consensus Estimate of $3.22 billion. Revenues were boosted by consistently strong performance of the company's key growth driver, Revlimid.
Revlimid Continues to Shine
Net product sales increased 18.6% year over year to $3.3 billion. Net sales of Revlimid came in at $2.0 billion, reflecting 19.6% year-over-year growth. The drug did well in the U.S. (up 25.9%). Growth in the reported quarter was driven by increased volume as a result of increases in duration of treatment and market share.
Net sales of another cancer drug, Abraxane increased 2% to $254 million as sales in the U.S. declined 7.5% but increased 24% internationally. Sales of oncology drug, Pomalyst/Imnovid, came in at $391 million, up 23%. Sales were driven by increased volume from duration gains.
Otezla reported sales of $358 million in the reported quarter, up 49% driven by market share gains in the U.S. and increasing contribution from early launch markets in Europe and Japan.
All other product sales (including Istodax, Thalomid, Vidaza and an authorized generic version of Vidaza in the U.S.) totaled $219 million in the reported quarter, down from $236 million from the year-ago quarter.
Adjusted research and development expenses increased 14.8% to $690 million, while adjusted selling, general and administrative expenses decreased 2.7% to $532 million.
2017 Outlook Updated
Celgene updated its guidance for 2017. The company anticipates earnings in the range of $7.25–$7.35 compared with the previous guidance of $7.15–$7.30 per share. The Zacks Consensus Estimate for earnings is $6.62 per share. Net product sales are still projected at $13 billion–$13.4 billion.
Revlimid sales are projected between $8 billion–$8.3 billion. Abraxane sales are estimated to be around $1 billion. While Pomalyst's revenues are projected around $1.6 billion, the same for Otezla are estimated around $1.5 billion–$1.7 billion.
Celgene Corporation Price and EPS Surprise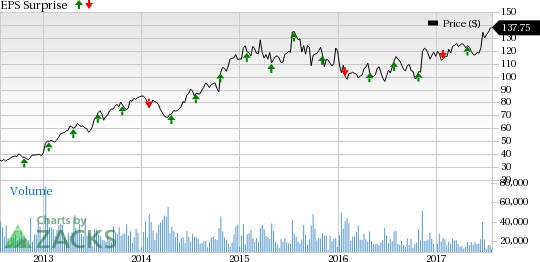 Celgene Corporation Price and EPS Surprise | Celgene Corporation Quote
Our Take
Celgene's second-quarter results were strong with the company beating on both earnings and sales estimates. Revlimid continued to outperform on the back of market share gains in the quarter. Other key products – Pomalyst/Imnovid, Abraxane and Otezla – also performed well. The consecutive increase in earnings guidance for 2017 is positive.
Meanwhile, the company continues to progress with its label expansion efforts and pipeline development. Revlimid was approved as a single agent for maintenance therapy in adult patients with newly diagnosed multiple myeloma (NDMM) following autologous stem-cell transplantation (ASCT) both in the U.S. and EU.NDMM market share continues to grow outside the U.S., with a positive uptake both in the EU and in Japan
Celgene, in partnership Agios Pharmaceuticals, Inc AGIO, submitted a New Drug Application (NDA) to the FDA for Idhifa (enasidenib) in relapsed and/or refractory acute myeloid leukemia (AML) with isocitrate dehydrogenase 2 (IDH2) mutation. The NDA was granted Priority Review with a Prescription Drug User Fee Act (PDUFA) action date of Aug 30, 2017. A potential approval will further boost the topline. Celgene has also collaborated with Acceleron Pharma XLRN to jointly develop sotatercept (phase II – chronic kidney disease) and luspatercept.
Zacks Rank & Key Pick
Celgene is a Zacks Rank #3 (Hold) stock.
A better-ranked stock in the healthcare sector is Exelixis, Inc. EXEL which currently sports a Zacks Rank #1 (Strong Buy). You can see the complete list of today's Zacks #1 Rank stocks here.
Exelixis has delivered positive earnings surprises in the trailing four quarters with an average beat of 512.11%. Exelixis's shares have soared 87.9% so far this year.
More Stock News: Tech Opportunity Worth $386 Billion in 2017
From driverless cars to artificial intelligence, we've seen an unsurpassed growth of high-tech products in recent months. Yesterday's science-fiction is becoming today's reality. Despite all the innovation, there is a single component no tech company can survive without. Demand for this critical device will reach $387 billion this year alone, and it's likely to grow even faster in the future. Zacks has released a brand-new Special Report to help you take advantage of this exciting investment opportunity. Most importantly, it reveals 4 stocks with massive profit potential. See these stocks now>>
Want the latest recommendations from Zacks Investment Research? Today, you can download 7 Best Stocks for the Next 30 Days.
Click to get this free report
Agios Pharmaceuticals, Inc. (AGIO): Free Stock Analysis Report
Celgene Corporation (CELG): Free Stock Analysis Report
Exelixis, Inc. (EXEL): Free Stock Analysis Report
Acceleron Pharma Inc. (XLRN): Free Stock Analysis Report
To read this article on Zacks.com click here.
Zacks Investment Research