Chart Of The Day: US Dollar Index Since the last time that we took a serious look at the U.S. Dollar Index, there has been change. We spoke at that time of 94 resistance and 92.65 support. Well, that lower level was never truly tested. The 94 level, however, did show up ... as support.
Let's take another look on Thursday and try to determine where broad valuations are headed. Remember that the U.S. Dollar Index is heavily weighted toward the euro, and the euro has weakened over the past 10 days or so, meaning that there is a built-in skew.
We have spoken often of a key, trend-changing level being placed possibly between 95 and 96. A 38.2% Fibonacci retracement on a model that begins with the late 2016 highs and runs through the September 2017 lows would place that level in the neighborhood of 95.82. Relative strength is still solid, and the moving average convergence divergence (MACD) is actually in great shape.
This chart suggests that although the nomination of Jay Powell to the top spot at the Fed may be seen as a dovish development, short-term upward pressure on the U.S. dollar is still a ways from completion. At this point, both proponents of the short-term upward trend and the longer-term downward trend are able to claim that their ideas are working.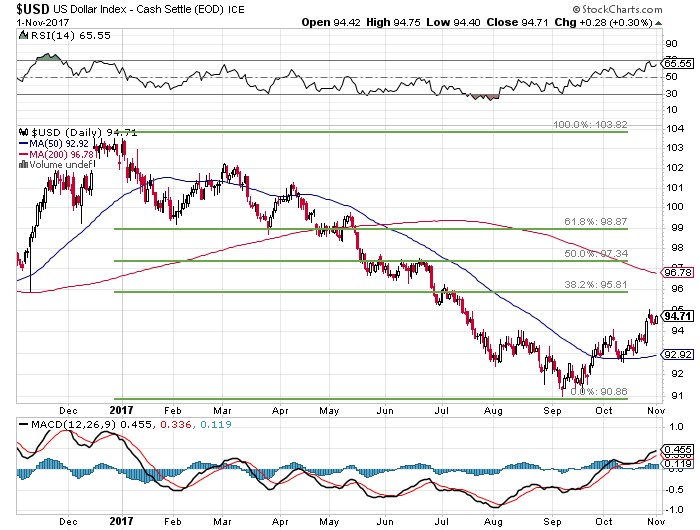 That 95.80ish Fib level would be a long-term trend changer if cracked. The 94 spot still matters to the downside. This ball may be more in Mario Draghi's court than in anyone else's.
(This is an excerpt from Stephen "Sarge" Guilfoyle's Morning Recon, which now appears exclusively on Real Money, our premium site for active traders. Click here for a free 14-day trial and receive Morning Recon every day, along with exclusive columns from Jim Cramer, James "RevShark" DePorre, technical analyst Bruce Kamich and more.)
More