It's been frustrating to go through 2-3 weeks of the shutdown/debt ceiling "crisis" as the main backdrop for markets. Markets were hesitant and with lower volatility. Looking at the S&P500 index, one of our key benchmarks for financial markets, we have a few good bullish candles in a row. With the Oct 17th deadline coming, we may have the catalyst for some interesting moves.
My Analysis of S&P500 and Daily Chart:
I talk about 3 scenarios in my analysis: a break out scenario (A), a bearish retrace (B) or down-to-the wire theatrics by politicians that jolt risk sentiment (C). However retraces can be used as buy the dip opportunities. I'm leanings 60% towards scenario A, with B and C sharing the other 40%.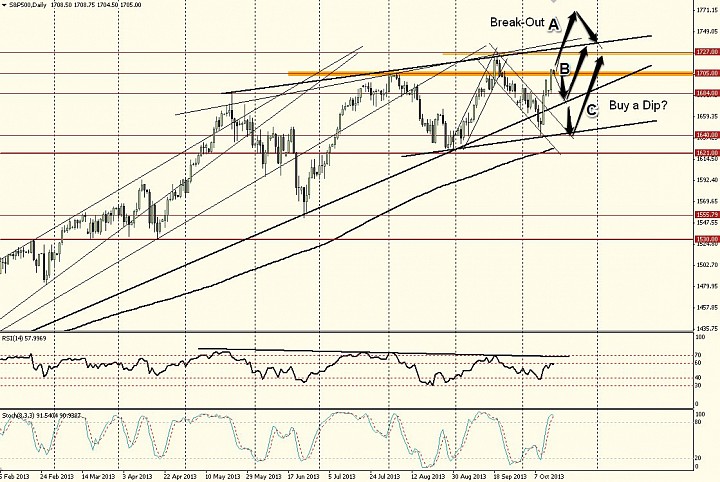 The index has had a good run since last Thursday, rallying from 1640 up to 1705, a move of 65 "handles". The market seems to be pricing in a deal in Washington.
The index will be coming to an important decision now. Will it try and out the 09/19 high at 1727?

It is also testing a previous pivot that was established at 1705 (on 08/04).

Possible Scenarios:

Scenario A: Market extends its current relief rally, and momentum carries through recent high. First you need a deal in Washington, then maybe thoughts of Yellen will be good for markets This is the risk-on scenario looking for a breakout.

Scenario B: There is some pullback in markets, to around 1680 which presents a "buy the dip" opportunity.
Scenario C: If the parameters for a deal in Washington have delays and difficulty passing the House then the risk-off scenario from Scenario B has a deeper retrace to 1640/1620 lows.
Which scenario plays out will depend on risk sentiment and what happens with the politicians, so keep your ear to what the latest in the negotiations are in Washington and gauge the market's reaction afterwards and see which scenario plays out. If we can follow the rhythm of the S&P500 index it helps give us a good idea of what currencies that are
linked to risk-on/risk-off trading like the JPY crosses will have a good correlation with US and Japanese equities (Nikkei225).

- Nick