Amid record profits, challenge seen to `long-term bull thesis'
U.S. airlines are finding out that impressing investors takes more than $18 billion in annual profits.
A stock rally that began in 2012 is sputtering out, in part on concern that fare fights in a handful of U.S. cities will unravel a historic industry rebound. Shrinking fuel bills give carriers the flexibility to win business by undercutting each other on tickets -- and to Wall Street's dismay, they're doing just that.
"We're seeing in select markets aggressive competition and capacity growth, and their position right now is to compete back, to cut fares," said Andrew Meister, an analyst at Thrivent Financial for Lutherans, which holds shares in the four largest U.S. carriers. "If that's the long-term outlook for behavior, it will challenge the long-term bull thesis for airlines."
Even with carriers poised for record annual earnings, the Bloomberg U.S. Airlines Index stumbled to a 0.6 percent gain this year through Monday, following a gain of more than fourfold from 2012 through 2014. The gauge of 11 carriers is on track to underperform against the Standard & Poor's 500 Index for the first time since 2011.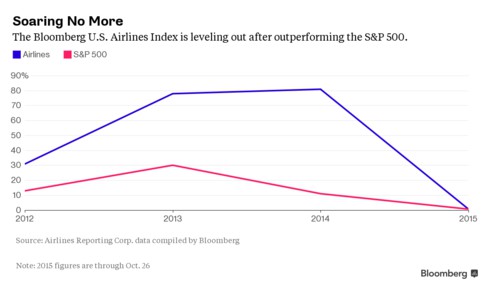 Discounters led by Spirit Airlines Inc. and Southwest Airlines Co. have been expanding faster than the U.S. economy in 2015, testing larger U.S. rivals' vows to never return to their old habits of money-losing fare duels. That resistance is starting to crack...
More