HAMBURG, Germany, Oct. 1, 2015 /PRNewswire/ -- On the eve of the 25th anniversary of German Reunification, the Brandenburg Gate has been digitally preserved through a collaboration between Landesdenkmalamt Berlin, University of Stuttgart's Institute of Photogrammetry, CyArk, storage and information management leader Iron Mountain Incorporated (IRM), and world-leading data storage company Seagate Technology (STX).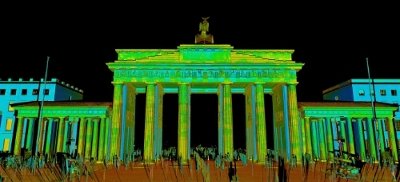 CyArk and its partners used laser scanning and the latest in reality capture technologies to create a hyper-accurate record of the Gate for use in ongoing conservation efforts and public education and interpretation. The scan results will be unveiled at CyArk's Annual Summit at the Berlin State Library on 20-21 October. At the same time, people around the world will be able to virtually explore the Gate online to learn about its history by viewing 3D models and videos.
"Digitally preserving the Brandenburg Gate is important because this structure is more than a municipal Monument, it is an icon of this city and country," Elizabeth Lee, vice-president, CyArk. "The Gate's scanning also contributes to the global conservation community that is working diligently to conserve the world's heritage sites – especially in the Middle East, where hundreds of monuments are at risk of destruction."
Once scanned, the imaging data – including data from the laser scan and photo, video, audio and metadata – is captured using Seagate storage solutions onsite and sent back to CyArk's servers at its headquarters via an external hard drive. CyArk's technical team can then access the raw data via CyArk's onsite servers to render them into 3D images. Once complete, some of the data is kept onsite for quick access, while a "gold copy" of the 3D image is backed up to a tape and transported offsite to Iron...
More