After a rather volatile week, the Dow Jones Industrial Average managed to close with a net gain of +0.92% and back above the 17,000 level. As seen on the chart below this index remains in a clearly defined technical uptrend which started with a successful test of the 200 day moving average back in early February. It also continues trading at new all-time highs, and above its 50 day moving average.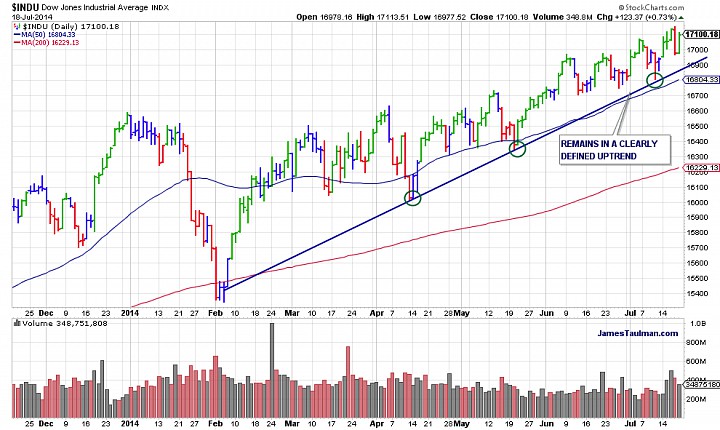 The Standard & Poor's 500 index closed +0.54% and is now in more of a consolidation-like phase as it digests the four month +10% rally run which it has made from the mid-April lows near 1814.
On a day-to-day basis investors are sensing an unnerving pick up in volatility, however by looking at a broader view using the chart below we see only healthy technical action. The benchmark index is at new highs yet not too far extended from its 50 and 200 day moving averages, being only +2.2% and +7.3% respectively.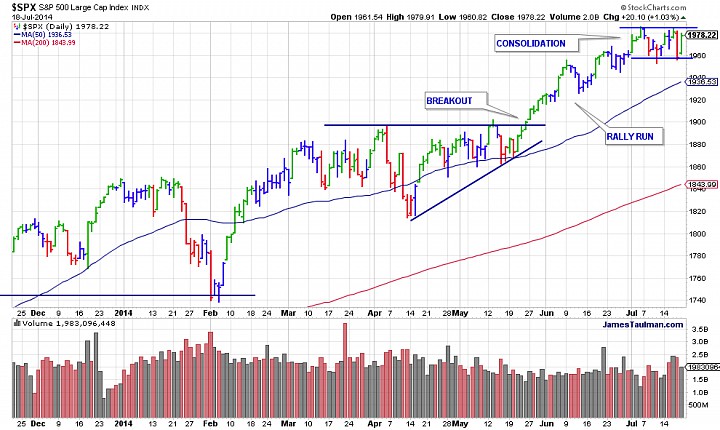 The NYSE Composite Index is also exhibiting some healthy consolidation-like action. There were some sharp declines on Thursday, yet we held above the 50 day moving average before Friday's advance - coupled with an increase in volume - help this broad index closed the week with a net gain of +0.45%.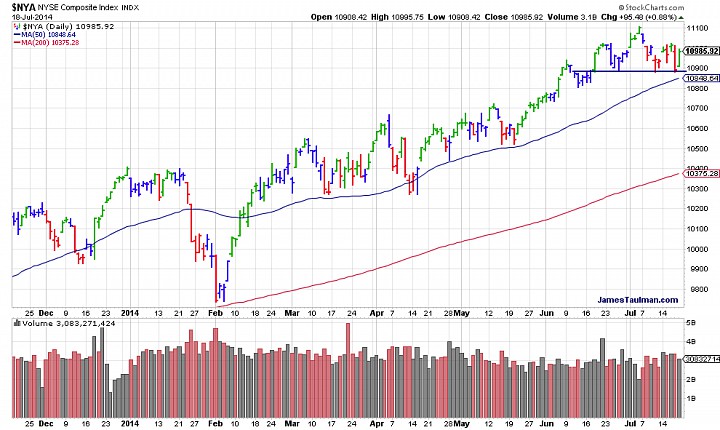 The Nasdaq Composite also closed with a gain for the week, albeit by only +0.38%. Friday's advance helped turn around what was on pace to be a losing week, yet the volume was much lighter than it was on the previous session sell off.  The lows for the week were just to the previous lows. A break below those (top blue line on the chart below) could lead to a test of the 50 DMA.
This index is the furthest above its 50 day moving average (+3.1%).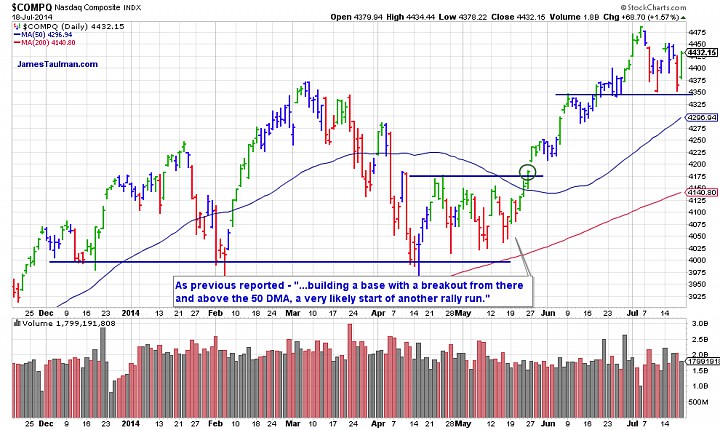 As noted above volatility has picked up, and the rally is not currently be in full-steam ahead. However, the overall technical condition for the most part is thus far is healthy.
Taking things on a stock-by-stock basis, your technically weaker holdings should be the first to be cut while keeping any stocks which show signs of strength.
As noted last week - "We also had two leaders trigger a sell signal this past week as shares of GRFS and LSCC both sliced through support of their respective 50 day moving average lines with a surge in volume." Those stocks continue to be the weakest.
All of our other selections continue to hold up well with the exception of the next weakest which is SYRG. Besides that all of which, including; ACT, MPWR, ORBK, RMBS, SLXP, STZ, AVGO, PEB, and VIPS are acting very well.
We had another buyable breakout on Monday as QCOR triggered its technical buy signal. It has thus far been a lack-luster performer, yet is holding up, and has not caused us any concerns.
I did add two new stocks to the watch list over the weekend, and we now we have four buy candidates for the coming week.  If at anytime through out the week, I do find any additional stocks which match up with the winning guidelines, I will then add them to the High-Ranked Leaders Watch List table on the Premium Members Home page.
Second-quarter earnings season is now underway. Please make sure to watch for the earnings announcement dates and times for any of your holdings.
________________________________________________________
As always, those who may need additional help are encouraged to email me with any questions or concerns at james@jamestaulman.com or call me direct at 754-366-1915, as I would be glad to assist you.
________________________________________________________