United Continental Holdings UAL just released its second-quarter fiscal 2017 financial results, posting earnings of $2.75 per share and revenues of $10 billion. Currently, UAL is a Zacks Rank #1 (Strong Buy) and is down 3.68% to $76.00 per share in trading shortly after its earnings report was released.
United:
Beat earnings estimates. The company posted earnings of $2.75 (excluding nine cents for non-recurring itemss), beating the Zacks Consensus Estimate of $2.65.
Beat revenue estimates. The company saw total revenues of $10 billion, just beating our consensus estimate of $9.96 billion and increasing 6.4% year-over-year.
Second-quarter 2017 consolidated passenger revenue per available seat mile (PRASM) was up 2.1 percent and consolidated yield increased 2.0 percent compared to the second quarter of 2016.
United said that it now expects third-quarter pre-tax margin to fall in the range of 12.5% to 14.5%. The company also expects PRASM to come in somewhere between a 1% slump and a 1% gain in the third quarter.
"The positive financial and operational performance this past quarter demonstrates that United is firmly on the right path. From investing in our products and our people, redoubling our focus on the customer experience, closing the margin gap with our peers and delivering strong returns to our investors, we have made important progress and moved United decisively forward," said Oscar Munoz, chief executive officer of United Airlines.
Take a look at this chart for a peek at United's earnings history:
United Continental Holdings, Inc. Price, Consensus and EPS Surprise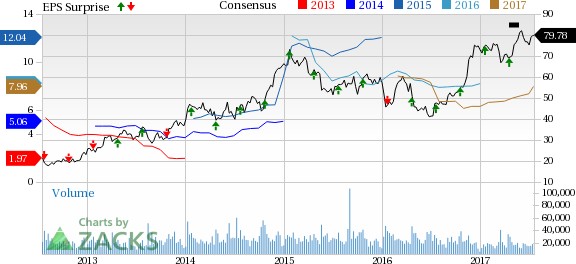 United Continental Holdings, Inc. Price, Consensus and EPS Surprise | United Continental Holdings, Inc. Quote
United Continental Holdings, Inc. is in the Airlines industry. It is the holding company for United Airlines and Continental Airlines. The Company operates its businesses through two reporting segments: Mainline and Regional Affiliates. The Company manages its business as an integrated network with assets deployed across its Mainline and regional carrier networks.
Check back later for our full analysis on UAL's earnings report!
More Stock News: 8 Companies Verge on Apple-Like Run
Did you miss Apple's 9X stock explosion after they launched their iPhone in 2007? Now 2017 looks to be a pivotal year to get in on another emerging technology expected to rock the market. Demand could soar from almost nothing to $42 billion by 2025. Reports suggest it could save 10 million lives per decade, which could in turn save $200 billion in U.S. healthcare costs.
A bonus Zacks Special Report names this breakthrough and the 8 best stocks to exploit it. Like Apple in 2007, these companies are already strong and coiling for potential mega-gains. Click to see them right now >>
Want the latest recommendations from Zacks Investment Research? Today, you can download 7 Best Stocks for the Next 30 Days.
Click to get this free report
United Continental Holdings, Inc. (UAL): Free Stock Analysis Report
To read this article on Zacks.com click here.
Zacks Investment Research