Amazon.com AMZN will report second-quarter 2017 earnings on Jul 27 after the bell.
The company has a Zacks Rank #5 (Strong Sell) and an Earnings ESP of +20.29%. You can uncover the best stocks to buy or sell before they're reported with our Earnings ESP Filter.
Per our proven model, a stock needs to have both a positive Earnings ESP and a Zacks Rank #1 (Strong Buy), 2 (Buy) or 3 (Hold) to beat estimates. We don't recommend Sell-rated stocks (Zacks Rank #4 or #5) going into the earnings announcement.
Amazon's earnings surprise history has been impressive as the company beat estimates in three of the last four quarters with an average positive surprise of 17.75%.
Year to date, the stock has underperformed the industry it belongs to. It has gained 38.5% compared with the industry's gain of 49.1%.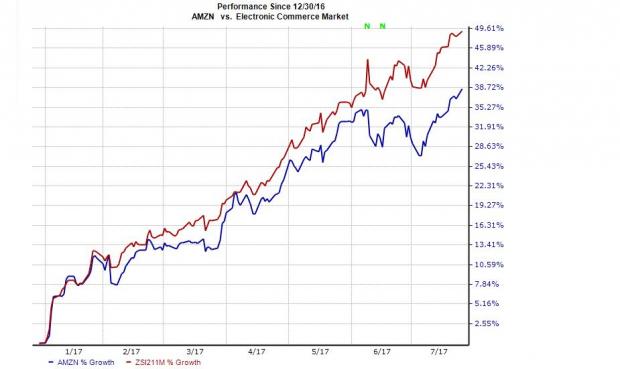 Q1 Highlights
Amazon's first-quarter 2017 results beat the Zacks Consensus Estimate on earnings and revenues. Though the highest-margin Amazon Web Services (AWS) business was up 3.5% sequentially and a massive 42.7% year over year, its revenue share was around 10%. The North America segment accounted for around 59% of sales, a sequential decrease of 20% but a year-over-year increase of 23.5%. The International segment accounted for 31%, down 20.8% sequentially but up 15.6% year over year.
Amazon generated first-quarter net income of $724 million, or 2% of sales, compared with $749 million, or 1.7% in the previous quarter and $513 million, or 1.8% of sales in the same quarter last year.
Amazon.com, Inc. Price and EPS Surprise
What We Are Watching
AWS: It's a multi-billion-dollar business and the cash cow for Amazon. It has millions of customers and generates much higher margins than retail. It is the key driver of Amazon's profitability.
We remain optimistic about the functionality, partner ecosystem and the experience AWS offers and believe this will lead to continued customer wins. If AWS continues to witness the same kind of success, investors can hope for significant growth this time as well.
Prime: Amazon keeps its retail business very hard to beat on price, choice, and convenience with the help of a solid loyalty system in Prime and its FBA strategy. The company continues to push advantages exclusively to Prime members, thus encouraging them to spend more on Amazon. It is focused on building video content, primarily for Prime subscribers because the growth prospects in that market are considerable.
Prime is now widely available and generates increased sales for Amazon. Prime Now, the company's super -fast delivery service, is expanding rapidly in the U.S.
IoT: Alexa powered Echo devices are going great guns and help the company sell products and services. Alexa has already been integrated into a host of everyday devices for the digital home and there are agreements for more.
The company is racing to build an ecosystem around Alexa to make sure that it stays well way ahead of Alphabet GOOGL subsidiary Google's smart assistant, Apple's Siri and Microsoft's Cortana.
Grocery Push: Amazon has already gone brick-and-mortar with books and is treading the same path with other merchandise as well. The company recently acquired leading natural and organic foods supermarket, Whole Foods Market for $13.7 billion. It is targeting the considerably large customer base that still prefers to shop at physical stores.
Amazon Go, the no-queue-checkout-counter grocery store, is going to be a boon for customers who are too worn-out to stand in long lines at physical cash counters or are baffled at complicated self-checking counters. It has the ability to completely shatter the traditional brick-and-mortar convenience store setup.
International Expansion: The company has been expanding Prime internationally to strengthen its foothold in international markets and create a launch pad for its other business. It could complement the company's current expansion efforts such as investments (in India) and acquisitions (like that of Souq.com).
Heavy Investments: Amazon continues to invest heavily in fulfillment centers, AWS, video streaming, offline retail, logistics, India expansion plans and what not. Its global margins are already under pressure and are likely to be so at least for a few years.
Guidance: In the second quarter, management expects revenues to include a million or 240 bps negative FX impact and come in around $35.25–37.75 billion. Operating income is expected to come in at approximately $425 million–$1.075 billion.
Bottom Line
If we delve deeper into Amazon's key investment areas, we see a futuristic approach. Amazon's long history of execution, growing focus on innovation, technological prowess and huge cash balance, not only give it the flexibility to pursue growth in any area that exhibits true potential but also to create value for investors.
Stocks that Warrant Look
Here are some stocks that you may want to consider as our model shows these have the right combination of elements to post a positive earnings surprise:
Cypress Semiconductor Corporation CY, with an Earnings ESP of +11.11% and Zacks Rank #1. You can see the complete list of today's Zacks #1 Rank stocks here.
The Priceline Group Inc. PCLN, with an Earnings ESP of +2.31% and a Zacks Rank #3.
More Stock News: Tech Opportunity Worth $386 Billion in 2017
From driverless cars to artificial intelligence, we've seen an unsurpassed growth of high-tech products in recent months. Yesterday's science-fiction is becoming today's reality. Despite all the innovation, there is a single component no tech company can survive without. Demand for this critical device will reach $387 billion this year alone, and it's likely to grow even faster in the future.
Zacks has released a brand-new Special Report to help you take advantage of this exciting investment opportunity. Most importantly, it reveals 4 stocks with massive profit potential.
Want the latest recommendations from Zacks Investment Research? Today, you can download 7 Best Stocks for the Next 30 Days.
Click to get this free report
The Priceline Group Inc. (PCLN): Free Stock Analysis Report
Amazon.com, Inc. (AMZN): Free Stock Analysis Report
Alphabet Inc. (GOOGL): Free Stock Analysis Report
Cypress Semiconductor Corporation (CY): Free Stock Analysis Report
To read this article on Zacks.com click here.
Zacks Investment Research