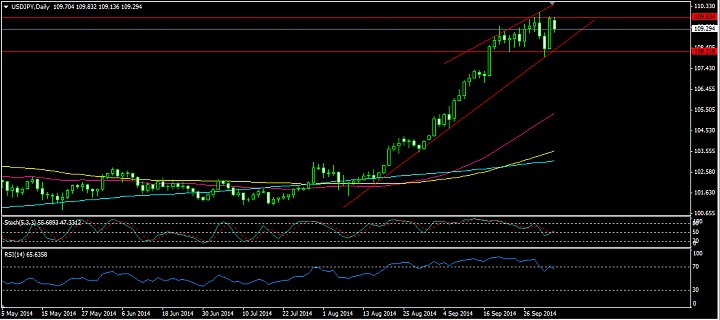 USDJPY : Daily Chart
USDJPY today declined after rising to multi year highs which it tried to touch earlier also. On the daily chart we can see that the pair found resistance at 109.83 and currently trading in the range of support at 108.21 and resistance at 109.83. The moving averages pattern on the chart is such that the 100 day SMA is below the 50 day SMA and 200 day SMA is below the 100 day SMA signaling an uptrend continuation. On the stochastic oscillator, the red signal line has just crossed below the average trend line which shows that the pair will rise. So we might see the pair breaking above the resistance at 109.83. 
On the other hand there also seems a rising wedge pattern which gives a bearish signal. Although there is still some room for gains, but once the pair will reach the apex of the wedge, it may decline breaking below the support trend line of the wedge.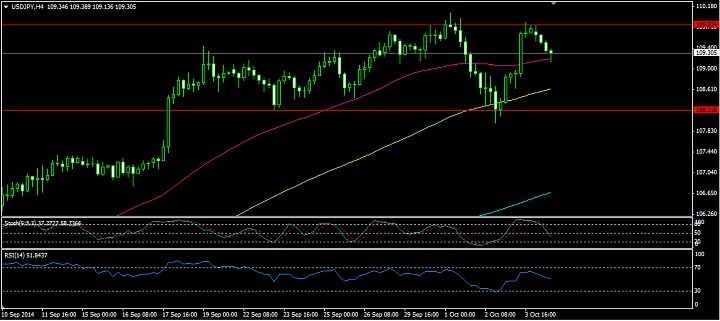 On the 4 hour chart, the pair is currently testing support from the 50 day SMA and if declines below this it will find the next support from the 100 day SMA. It is trading sideways with resistance at 109.83 and support at 108.21, and will confirm a bullish or bearish trend only when it will rise above the given resistance or the support respectively.