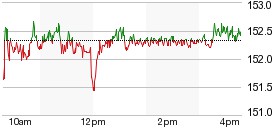 VERNON HILLS, Ill., Aug. 12, 2015 (GLOBE NEWSWIRE) -- CDW (CDW), a leading provider of technology solutions to business, government, education and healthcare, announced that Joseph Swedish has been appointed to the company's Board of Directors.
Since 2013, Swedish has served as president and chief executive officer (CEO) of Anthem (ANTM), one of the country's leading health benefit providers, serving more than 38.5 million Americans. Swedish most recently led the company's effort to acquire Cigna, a $54 billion deal that is expected to close in late 2016.
Swedish is widely recognized for his...
More