Canada's Employment Change in May was in line with expectations, coming in at 25.8K, while forecast was around 24.5K. The April reading showed a loss of 28.9K jobs. 
Meanwhile, the unemployment rate edged up from 6.9% to 7.0%. This reflects an increase of people in the labour market, not necessarily a bad sign.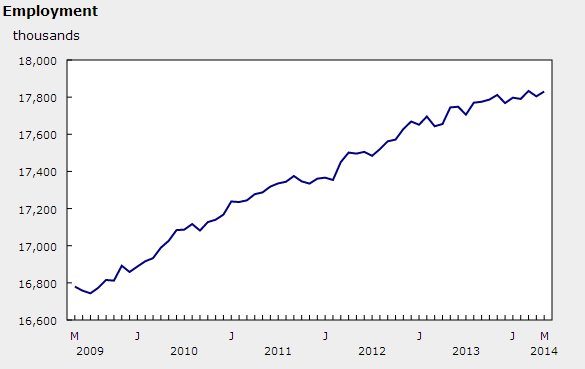 (source: statcan)
Still the gains this month was driven by part-time work according to StatCan, and "Overall employment growth has been subdued since August 2013".
Today's jobs data from the US and Canada were nothing extraordinary. They showed mixed results, though the US jobs report is relatively better and comes off a good month in April, whereas Canada's data has been inconsistent. 
This should give USD/CAD upward pressure, and we did see a bullish reaction in the USD/CAD.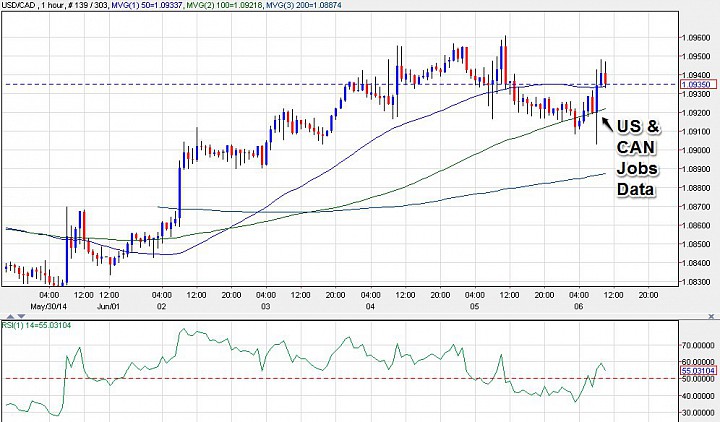 (USDCAD 1H Chart 6/6)
Also note that the prevailing trend in the 1H chart has been bullish, and today's jobs reports should not impeded this momentum. In the very short-term, the upside risk remains towards at least the 1.10 handle.
the fact at the 1H RSI held above 40 also reflects unimpeded bullish momentum. At this point, a break below 1.09 with the RSI dipping below 40 would take away the bullish outlook, and put pressure back towards the May lows in the 1.0815-1.0822 area.