TiVo Corporation TIVO is slated to release third-quarter 2017 results on Nov 2.
TiVo's third-quarter revenues are likely to benefit from the company's merger with Rovi, new licensing agreements and launch of innovative products. However, escalating operating expenses in a bid to stay ahead of competitors is likely to dent the company's profitability.
The Zacks Consensus Estimate for the quarter under review is pegged at 29 cents. Additionally, analysts polled by Zacks project revenues of roughly $196.5 million, 28.3% higher than the year-ago quarter tally.
TiVo Corporation Price and EPS Surprise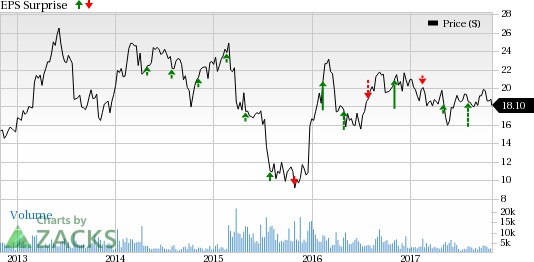 TiVo Corporation Price and EPS Surprise | TiVo Corporation Quote
Merger Enhances Capabilities
It should be noted that upon successfully completing the acquisition of TiVo in September 2016, Rovi adopted the iconic TiVo brand name. Prior to the merger, Rovi provided a set of solutions that allowed businesses to protect, enable and distribute digital goods to consumers, aiding the companies to discover and manage digital media across multiple channels.
Meanwhile, TiVo pioneered a brand new category of products by developing the first commercially available digital video recorder. However, over the years, the company expanded capabilities beyond hardware sales and patent licensing to online subscription services.
The merger has brought together two leading players in the media entertainment industry, with complementary products and services, as well as a number of patented technologies. Together having over 6,000 issued and pending patents, the new TiVo is the global leader in entertainment technology and audience insights.
Analysts covering the stock believe the merger will benefit the company's to-be-reported quarter top-line results. Notably, the company has witnessed over 65% increase in revenues for each of the first two quarters of 2017.
New Licensing Agreements Driving Revenues
The new TiVo has a diverse product portfolio that ranges from interactive program guide to DVR. The combined company has emerged as the world's leading media and entertainment provider to deliver the ultimate entertainment experience.
The enhanced capabilities are attracting customers to sign multi-year licensing agreements. In the year so far, the company has entered three main Intellectual Property (IP) licensing agreements, namely with Roku Inc. ROKU, TCL and Sony. These deals are anticipated to be incrementally beneficial for the company by bringing in additional revenues.
Product Pipeline to Drive Demand
TiVo's innovative product pipeline is a major growth catalyst, in our view. The company's strategy of offering content on all devices on a real-time basis significantly enhances the utility of its products, which we believe will drive demand, going forward. The TiVo Roamio has gained significant traction due to its added ability to connect the company's mobile apps, and stream and download live as well as recorded television program. We believe t the company's innovative product pipeline will fuel significant top-line growth over the long term.
Rising OpEx to Hurt Profitability
TiVo has been witnessing stiff competition from Internet video providers such as Alphabet's YouTube, Netflix Inc. NFLX, Apple and Roku. As a result, TiVo has been elevating its operating expenses to stay ahead of competition, which is likely to thwart the company's profitability.
Notably, the company's total cost and expenses flared up 73.7% to $199.8 million in second-quarter 2017 from $115.1 million incurred in the year-ago quarter.
What the Zacks Model Unveils?
Our proven model does not conclusively show that TiVo is likely to beat earnings estimates this quarter. This is because a stock needs to have both a positive Earnings ESP and a Zacks Rank #1 (Strong Buy), 2 (Buy) or at least 3 (Hold) for this to happen. You can uncover the best stocks to buy or sell before they're reported with our Earnings ESP Filter.
TiVo has an Earnings ESP of -2.61% but carries a Zacks Rank #3 (Hold). Though Zacks Rank #1, 2 or 3 increases the predictive power of ESP, the company's negative ESP makes surprise prediction difficult.
Stock With Favorable Combination
As per our model, NVIDIA Corp. NVDA has the right combination of elements to post an earnings beat this quarter. The stock has an Earnings ESP of +0.53% and a Zacks Rank #1. You can see the complete list of today's Zacks #1 Rank stocks here.
More Stock News: This Is Bigger than the iPhone!
It could become the mother of all technological revolutions. Apple sold a mere 1 billion iPhones in 10 years but a new breakthrough is expected to generate more than 27 billion devices in just 3 years, creating a $1.7 trillion market.
Zacks has just released a Special Report that spotlights this fast-emerging phenomenon and 6 tickers for taking advantage of it. If you don't buy now, you may kick yourself in 2020.
Click here for the 6 trades >>
Want the latest recommendations from Zacks Investment Research? Today, you can download 7 Best Stocks for the Next 30 Days.
Click to get this free report
Netflix, Inc. (NFLX): Free Stock Analysis Report
TiVo Corporation (TIVO): Free Stock Analysis Report
NVIDIA Corporation (NVDA): Free Stock Analysis Report
Roku, Inc. (ROKU): Get Free Report
To read this article on Zacks.com click here.