Update: It appears our observation that AVP has a Debt-to-Ebitda of a stunning 3.7x that has blown away hope/hype of the LBO copming to fruition...
Just 4 short months ago, Avon stock soared after a fake private equity offer from a fake entity appeared. With a 20% short base, the stock exploded higher. Today, with 17.4% of the stocks' float short, The Wall Street Journal sparks some panic-buying...
*AVON HALTED; DISCUSSES STAKE SALE WITH PE FIRMS, WSJ REPORTS
Avon has now been halted twice and is trading up 12% (before re-opening).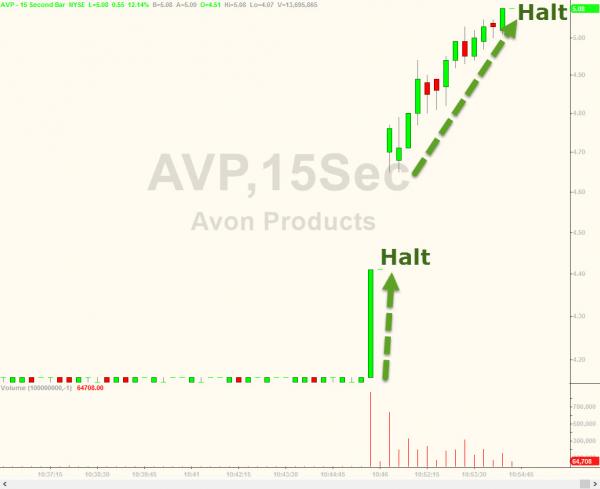 Avon Products Inc. is in discussions with private-equity firms about an investment that could help shore up the struggling cosmetics company, according to people familiar with the matter.

 

Avon is running an auction process for what is known as a private investment in public equity, or PIPE, with firms including Cerberus Capital Management and Platinum Equity. Bids are due next week, the people said, with some adding that a PIPE is just one of the options the company is considering.

 

It's unclear how big a stake would be sold and there's no guarantee such a deal will materialize.
*  *  *
It appears someone still needs to knock down the shorts...