EasyAcc has recently released a new 6400 mAh powerbank for their classic series. This power bank is an upgrade of their previous 6400 mAh power bank (hence the Generation 2 in the name) and makes for a good on-the-go external battery. Below is a review of this power bank's features.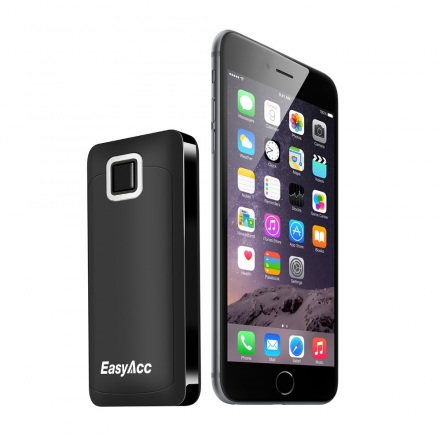 This power bank, with its shape, size, color, and use of ABS, has a design reminiscent of classic power bank models and is a direct continuation of EasyAcc's previous 6400 mAh model. Unlike 3000 mAh models, this external battery is designed to offer more than just emergency power while retaining portability. At a size of 4.09×1.77×0.87 in. and a weight of 4.66 oz, this power bank is smaller than an iPhone and weighs around the same as an iPhone 6 or iPhone 5c, making it no more of a hassle to take around than one.
And with a capacity of 6400 mAh, PB6400CS can charge an iPhone 6 more than 2.5 times, a Google Nexus 6 more than 1.6 times, and a Samsung Galaxy S5 more than 1.5 times.
The power indicator on PB6400CS is arranged in a ring around the power button, and the four sides of the ring correspond to the four individual indicators that other power banks often have. This unique design ensures that the amount of power remaining in PB6400CS can be easily discerned at a glance.
In addition, this external battery comes with a 2.1A input that allows for faster charging of the power bank itself. Other power banks within the 6400 mAh range tend to have only 1A inputs. A 2.1A input, however, allows PB6400CS to be fully charged in 4 hours when a 2A adapter is used, which means that this external battery has the ability to be charged in half the time that other external batteries in the same capacity range require.
And like other power banks in this capacity range, PB6400CS features a USB port with a maximum output of DC 5V 2A, allowing it to charge just about any smart device with 5V input at full speed. This makes it a great companion for anyone.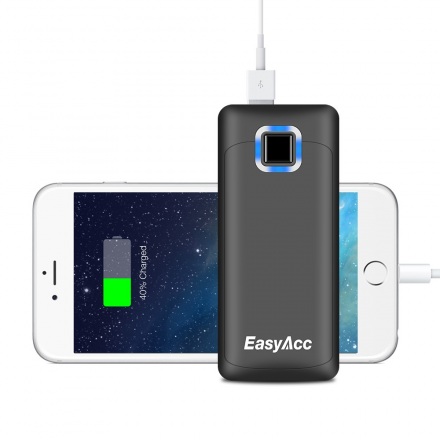 In addition, PB6400CS comes with a LED flashlight, which makes it even more useful. Not only can this power bank help out when one's smart device is low on battery, but it can also help out in a pinch if the power's gone out or if one's outdoors at night. This external battery comes with a user manual and a 7.87 inch long micro USB to USB cable, too, allowing it to be used straight out of the box.
PB6400CS uses high-quality LG battery cells as well and has passed a number of quality tests, including the drop test and the battery cell lifespan test. In addition, multiple protective mechanisms protect PB6400CS from overcharge, overdischarge, overcurrent, and short circuits. Thus, PB6400CS should prove to be a durable and safe power bank that can be used for a long time.
As this review has shown, PB6400CS is a classic-looking power bank that has been tested for reliability both inside and out. With this external battery, one can easily get through a day away from power outlets, even when it's dark out. Find it at http://www.amazon.com/dp/B00S4Q9BX4.