USD/JPY indeed slid after we spotted it stalling at a key resistance: USD/JPY has a bearish divergence at key resistance.
USD/JPY 4H Chart 9/7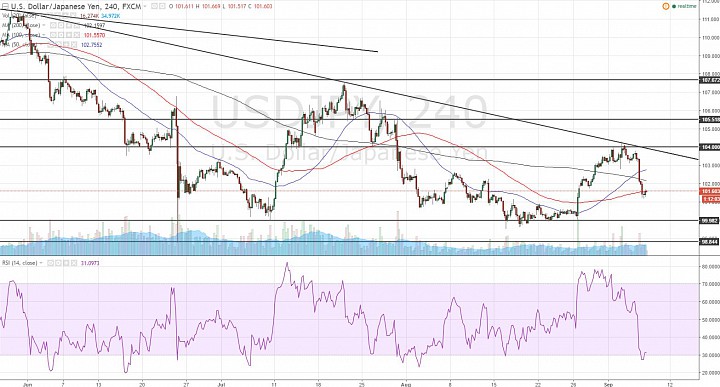 (click to enlarge)
104 resistance factors:
- The resistance factors around 104 included 1) a falling trendline, 2) a previous support pivot, and 3) the fact that the RSI showed bearish divergence vs. price. 

Support around 101:
- After the price top, USD/JPY fell sharply and is near 101, where I would start to anticipate support. 
- I think the 100-101 area can provide key support. 101 is a previous support/resistance pivot, and 100 is a key psychological level where price have been sticky before (during the consolidation in August). 

Bullish outlook might hinge on how price reacts in the 100-101 area:
- If price can hold above 101 for the most part, I would have more confidence of the bullish outlook and would anticipate extension above 104. 
- Remember that a couple of Friday's ago, the USD/JPY rallied sharply from the 100 area after Yellen gave a speech that the market felt was hawkish.  
- If price falls below 100, this hawkish sentiment is awash, and I would be conservative in assessing a subsequent bullish attempt. Maybe I would hold my bullish expectation to 103.