With the iPhone 6s now in the public domain, analysts and critics are getting to grips with the qualities of this handset. One of the areas where Apple Inc. (NASDAQ:AAPL)'s iPhone series has sometimes been criticized is with regard to battery life. This is obviously a critical component of any smartphone, as consumers naturally would like to keep the number of times that they have to charge their devices down to a bare minimum. Unfortunately, as both Apple and Android handsets have become more complicated, so battery life has significantly diminished.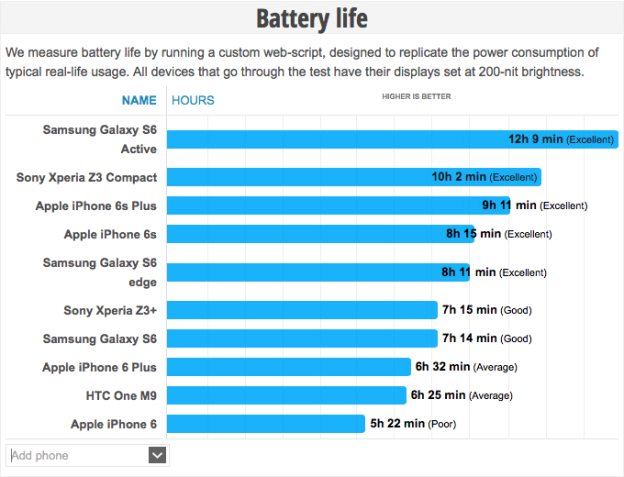 So Apple was under pressure to improve this aspect of the smartphone series when the iPhone 6S was released. It has been particularly asserted in some quarters that the iPhone 6s under-performed next to its Android rivals, even though the iPhone 6 Plus provided better battery life than the iPhone 6. The larger cell included in the iPhone 6 Plus ensured that it delivered significantly more battery time than the smaller cousin of the phablet, but how do the two iPhone 6s models compare to the last generation?
It perhaps didn't bode particularly well that Apple has in fact utilized smaller batteries in both iPhone 6s models due to space considerations. It seems that as smartphones become ever more complicated pieces of technology, so there is also a drive to manufacture them in ever slimmer guises.
The iPhone 6s generation sees Apple clear space in order to accommodate the taptic engine required for 3D Touch. Even though better battery life is an important aspect of the iPhone 6s, this was undoubtedly considered essential, particularly as Apple has strongly emphasized this new aspect of the iPhone 6s range in its commercial promotion of the product.
But despite the fact that Apple was forced to reduce the anticipated battery size, the consumer electronics giant always maintained that the iPhone 6s would deliver excellent battery life. It...
More