Once a month, the Goldman Sachs (GS) securities division surveys 800-1,000 of its top global clients to assess their thoughts on market direction in the near-term.

A total of five topics were broached, as mentioned below.
_____
Most Focused-On Event For July
Clients are most focused the ECB meeting, while close behind were US inflation data and Q2 earnings reports.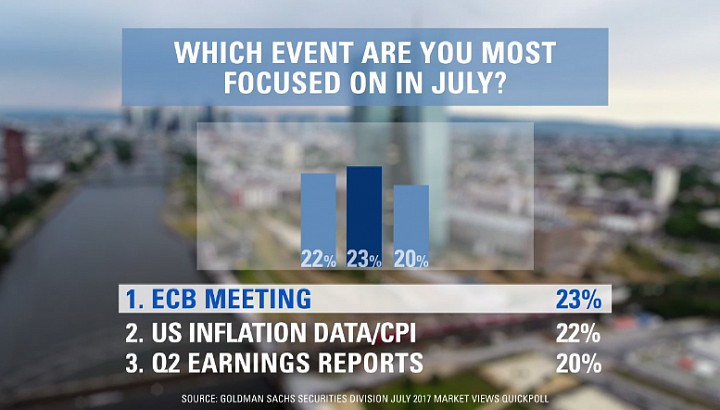 _____
Key Driver Of The Markets In The Second Half Of 2017
Monetary policy was on most respondents' minds, with US monetary policy and EU monetary policy about evenly represented at 57% of the vote.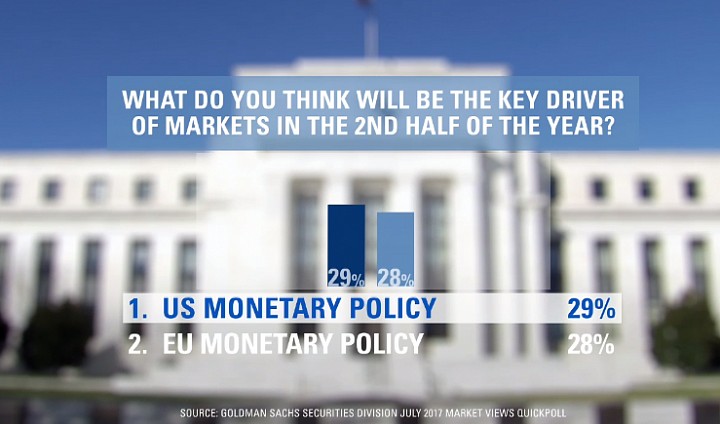 _____
Main Driver Of Volatility
Central banks are widely regarded as the key determinant of market volatility, by more than a 2-to-1 ratio over the next stated reason (macro events). This comes in the context of volatility indices, such as the VIX, making all-time lows with high levels of monetary accommodation and steady, moderately growing economies driving volatility lower.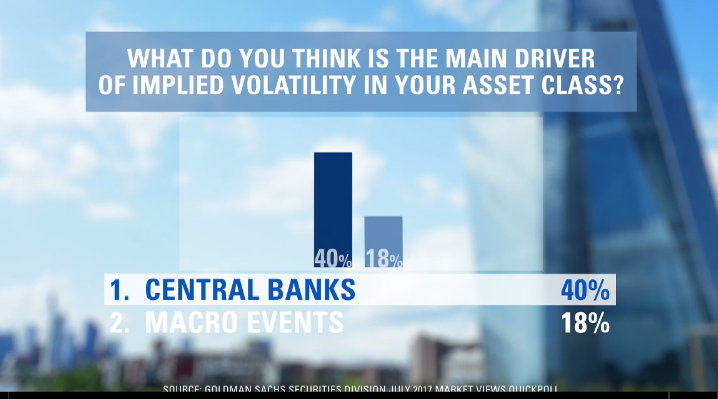 _____
Volatility Direction
On the same topic, naturally most investors believe that volatility will increase from here, with survey results showing this by a 65% to 3% margin. With volatility at or around all-time lows and the gradual taking away of liquidity by central banks, the results are to be expected. Twenty-nine percent expect range-bound behavior.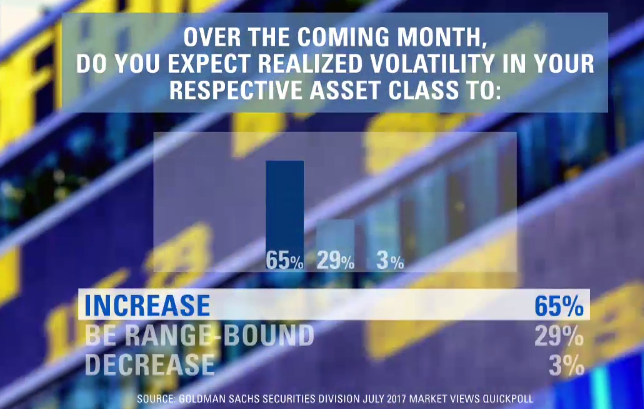 _____
Stock Market Direction
Somewhat surprisingly, respondents were fairly bearish on the S&P 500 (37%), at least relative to the number of bullish respondents (17%).
It may reflect perceptions of the "end of monetary accommodation" era (which I don't think is true anyway), more skittishness based on June's performance (which was down), perceptions of overvaluation in stocks, and/or a negative outlook on Q2 earnings. (About 90% of the S&P will report earnings before the end of the first week in August.)