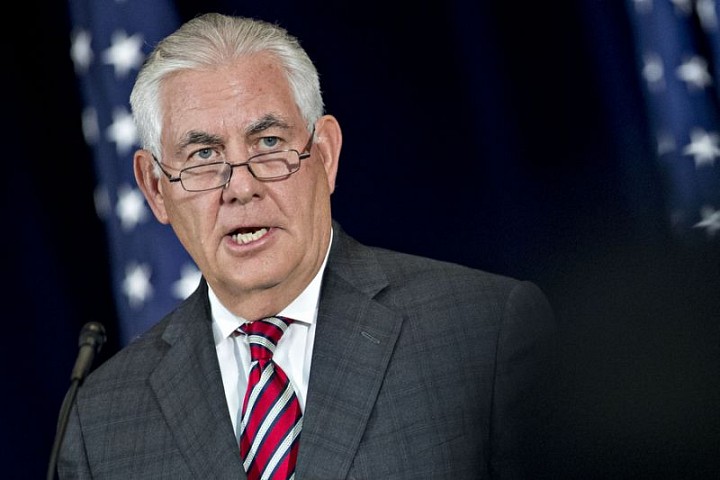 President Donald Trump's administration said Iran is complying with the deal to curb its nuclear program, even as White House officials argued that the Islamic Republic continues to engage in actions that destabilize the Middle East and isn't living up to the spirit of the pact.
Secretary of State Rex Tillerson was to deliver a report to Congress, required by law every 90 days, that says Iran has met the conditions laid out in the 2015 agreement with the U.S. and five other major powers, according to three officials who briefed reporters on condition of anonymity Monday night. But they said the U.S. will seek to punish Iran for malevolent behavior outside of the nuclear pact, including its support for Bashar al-Assad's regime in Syria and its continuing development of ballistic missiles.
The finding that Iran is complying with the nuclear agreement comes as the White House is conducting a broader review of U.S. policy toward the Iran. At the same time, U.S. allies in the Gulf are engaged in a diplomatic spat and Congress is considering legislation to toughen non-nuclear sanctions against Iran.
Monday's decision reflected the difficult position in which the administration finds itself over the deal. Trump frequently criticizes the accord, but his administration has said repeatedly it's waiting for the results of the Iran policy review and so far hasn't been willing to go against the other countries, including Germany and France, that helped forge the deal and strongly support it. In the meantime, companies from Total SA to Boeing Co. have begun signing major deals with Iranian companies as the country's market opens up.
The certification decision became even more politically charged with the announcement that Iran had sentenced 37-year-old Xiyue Wang, who has both U.S. and Chinese citizenship, to 10 years in jail for allegedly "infiltrating" the country. Wang is a graduate student at Princeton University and was arrested while researching his...
More