E-mini futures are fractionally lower this morning (0.08%) after Apple's surge helped the DJIA climb above 22,000 for the first time on Wednesday; Global shares declined for the first time in 4 days pressured by tech stocks: Asian shares fell, while Europe pared opening losses to trade unchanged.
Global markets fell on Thursday, as the MSCI All-Country World Index declined for the first time in four days, led by a tumble in tech shares as investors locked in recent gains after Wall Street's Dow Jones Industrial Average broke the 22,000 barrier for the first time. Despite the Dow's record close above 22,000, caution crept into Asian trading as the MSCI's index of Asia-Pacific shares ex-Japan fell 0.7%, with China, HK, Japan and Australia all down, while South Korean stocks plunged 1.7%, the biggest drop since November on plans to raise taxes for big corporations. The Kospi index fell as much as 2.2 percent, the most since Nov. 9. Samsung Electronics Co., which has the largest weighting on the index, dropped 2.5 percent. Japan's Topix index closed little changed near a two-year high as investors parse through recent earnings results.Australia's S&P/ASX 200 Index lost 0.2 percent as Rio Tinto shares tracked their London stock lower. Hong Kong's Hang Seng Index was down 0.3 percent and the Shanghai Composite Index fell 0.4 percent.
"We haven't seen a major correction in tech shares so far this year so they may be hitting a speed bump," said Nobuhiko Kuramochi, chief strategist at Mizuho Securities.
In Europe, stock markets opened broadly lower, with Germany's DAX slipping 0.6 percent and France's CAC 0.4 percent lower, however initial losses have been since recouped with energy shares dragging as investors digested a rebound in American oil output that had crude prices fluctuating. Technology stocks in Europe slipped 0.3 percent. "I don't see too much in the way of downside for European stocks because economic data is strong - take a look at the Italian data today," said Michael Hewson, chief market analyst at CMC Markets. The British pound strengthened before a rates decision.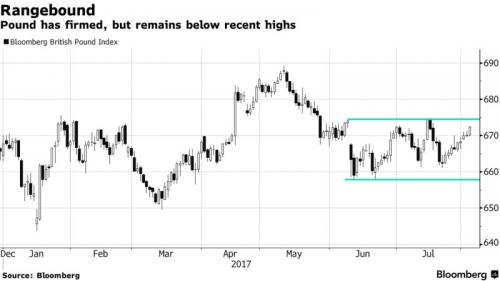 The Bloomberg Dollar Spot index held near a 15-month low ahead of Friday's U.S. payrolls data. In the overnight session, both the Aussie and Kiwi slid against the dollar as investors prepared for the RBA statement Friday, and RBNZ meeting on Aug. 10, as the dollar keeps trying to recover from a 31-month low against euro. In Europe, the pound rose to the highest level since September against the dollar amid bets for a hawkish tilt in BOE's rates outlook.The dollar inched away from a 15-month low versus a basket of currencies, but was still looking wobbly due to doubts about whether there will be another U.S. interest rate rise this year. The dollar index, which measures the greenback's value against a basket of six major currencies, rose about 0.12 percent to 92.951. On Wednesday, it slid to 92.548, its weakest level since May 2016.
European government bond yields edged slightly higher, with Germany's 10-year yield rising less than one basis point to 0.49%. The yield on 10-year Treasuries dipped one basis point to 2.26%. The U.K.'s FTSE 100 Index gained less than 0.1 percent.
As Bloomberg notes, while corporate results have been largely dominating sentiment this week, Friday's report on the U.S. employment market may provide the next inflection point.Investors are looking for clues on the strength of the world's largest economy and the Federal Reserve's next policy move, not least to see if the dollar will get any respite.
"Despite the recent pull back, the dollar remains broadly overvalued, and the starting point matters," UBS strategists including Manik Narain wrote in a client note. "Expensive valuation reduces the likelihood of a further broad dollar rally."
Today's main event is the BoE inflation report and rate decision (no change overwhelmingly expect). The focus is likely to be on how the members voted and clues on inflation and rates outlook. Back in the June meeting, the 5-3 vote was more hawkish than expected, partly given growing concerns that the inflation overshoot was more pronounced than expected. Since then, macro data has not changed much, but Q2 CPI was actually more in-line with the BOE May inflation report, which should partly reduce the weight of the hawkish argument on inflation. Further, the composition of the committee is also changing, with Silvana Tenreyro now replacing Kisten Forbes who previously favoured a hike. For now, analysts do not expect BOE to tighten rates until Brexit related uncertainties have been sufficiently reduced. We shall get more clues shortly.
In commodities, West Texas Intermediate crude increased 0.4 percent to $49.78 a barrel after falling as much as 1 percent. Gold fell 0.3 percent to $1,263.44 an ounce, heading for a fourth day of declines after a second day in a row of slamdowns just after 7pm ET.
Today's economic data include initial jobless claims, durable goods orders, Markit PMI readings. Earnings from Kraft Heinz, Allergan, Viacom Inc. and Yum! Brands, Duke Energy are due.
Bulletin Headline Summary from RanSquawk
European bourses pare opening losses to trade relatively mixed.
GBP rises after better than expected Services PMI.
Looking ahead, highlights include the BoE QIR.
Market Snapshot
S&P 500 futures down 0.2% to 2,469.75
STOXX Europe 600 down 0.2% to 377.93
MSCI Asia down 0.6% to 160.49
MSCI Asia ex Japan down 0.7% to 527.52
Nikkei down 0.3% to 20,029.26
Topix down 0.03% to 1,633.82
Hang Seng Index down 0.3% to 27,531.01
Shanghai Composite down 0.4% to 3,272.93
Sensex down 0.4% to 32,337.95
Australia S&P/ASX 200 down 0.2% to 5,735.12
Kospi down 1.7% to 2,386.85
German 10Y yield rose 0.9 bps to 0.495%
Euro down 0.2% to 1.1837 per US$
Italian 10Y yield fell 0.4 bps to 1.723%
Spanish 10Y yield rose 2.1 bps to 1.479%
Gold spot down 0.4% to $1,261.58
Brent Futures unchanged at $52.36/bbl
U.S. Dollar Index up 0.2% to 92.97
Top Headlines
Germany's economy slowed more than initially estimated at the start of the third quarter, leaving it trailing the euro region's other large nations
Britain's economy has moved into a phase of "steady but sluggish" growth and is at risk of a further slowdown, according to IHS Markit.
Iceland's central bank is ready and willing to lower its guard against fast cash with the country's balance sheet on a firm footing and a stimulus unwinding underway in global capital markets
China Tries to Calm U.S. Trade Spat While Readying Retaliation
Fed Front-Runner Cohn Could Be Trump's Bulldog in...
More