Summary
The stock currently trades at a premium 20.28x trailing EBITDA.
Unit growth should remain strong but comps have shown slowing trends.
A lawsuit concerning heavy insider selling from the company's co-founders compounds the premium valuation.
We believe shares are worth $29 per share.
Five Below (NASDAQ:FIVE) is set to release Q2 earnings Wednesday, September 2, after the close. The Street is looking for earnings of $0.13 on revenues of $184.69 million. While Five Below is an exceptional company with plenty of growth potential, the valuation is simply too rich. A rich valuation coupled with controversial insider selling gives us a bearish sentiment on the stock.
EBITDA has grown consistently since 2012, driven by strong topline growth and margin expansion.
(click to enlarge)

The stock, however, is currently trading at 20.28x trailing EBITDA. This is a premium multiple for any stock, even one such as FIVE which saw EBITDA grow 29% last quarter.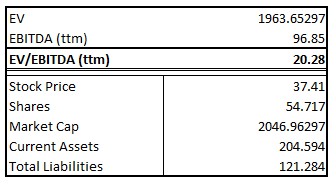 The company has grown store count at a 27% CAGR since 2010 to 366 stores nationally. FIVE still has regions it has yet to penetrate, so we believe this strong unit growth should continue. Sales per store (net sales per store count at year end) has grown at an 8% CAGR since 2010 to $1.86 million in 2014 (NOTE: this is different from the metric used in the company's SEC filings, which only accounts for full-year stores).
We believe sales per store growth should slow, however, due to the law of large numbers coupled with slowing comps.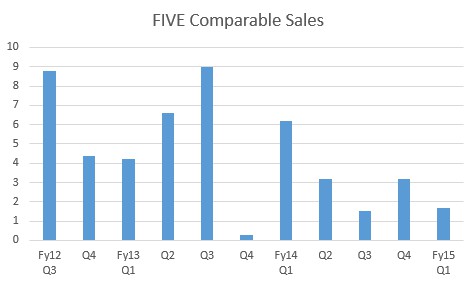 As can be seen above, comparable sales have slowed tremendously of late. While much of this can be attributed to the company offering and holding a successful store mix, the numbers are unencouraging looking forward. Downward moving comps are a concern when the stock is trading at 20x trailing EBITDA.
The company is guiding for strong unit growth of 70 new stores in 2015 and 85 new stores in 2016. We believe the company can continue to open stores at a 80 store per year clip into 2019, which puts our 2019 store count estimate at 761.
Management is also guiding for +3% comps, up from +1.7% comps in the first quarter. Given a plehtora of new store openings, we believe 3% comps will translate to roughly 2.5% net sales per store growth per year.
Guidance calls for capex of $56 million in 2015. We remove $20 million of this moving forward as the new East Coast distribution center will be completed and operating. We then increase capex from this $36 million base due to accelerated store openings, so we are modeling for $45 million in capex in 2016 (on 85 store openings) and $40 million in capex thereafter (on 80 store openings).
Management is calling for revenues this year of $820 to $828 million. Our model is calling for revenues of $830.55 million. Similarly, we are modeling for net income of $59.6 million, above management's guidance for $56.4 to $58.2 million. Despite management's guidance for declining operating margins, we bullishly model for operating margin of 11.80%, a 50 basis point expansion from 2014.
(click to enlarge)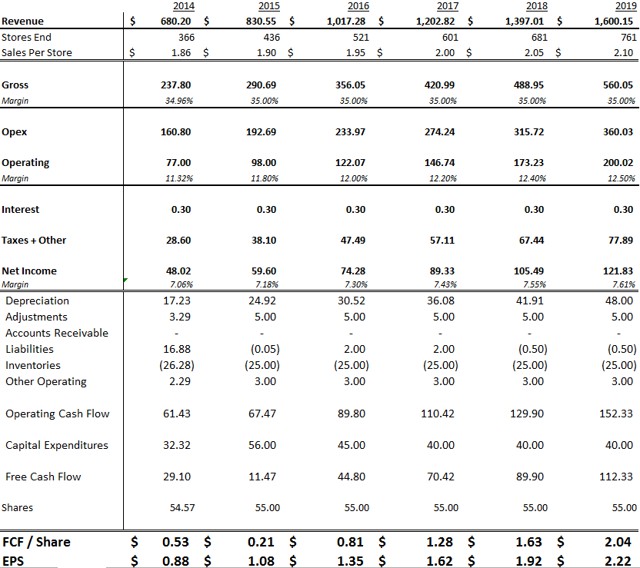 For comparison purposes, our EPS and revenue estimates are slightly above analyst consensus estimates for 2015 and 2016.
Plugging these FCF projections into our DCF model with a 2% perpetuity rate and 7.83% discount rate (using a Beta of 1 for consistency purposes, despite FIVE's 1.83 Beta), we arrive at a fair value of just under $29 per share. This is 22% below current market value.

When factoring in heavy and controversial insider selling that led to a lawsuit earlier this year, we believe a $29 fair value for FIVE might actually be too bullish. FIVE is a fantastic company with a unique business model and solid runway for growth, but at 20x EBITDA, we can't get around the valuation.
More