GBP/USD rallied in October from above 1.5105 to about 1.5390. However, this rally stalled last week as price became choppy but sideways. This week, we saw another failed bullish attempt followed by a sharp down back to about 1.52. 

GBP/USD 1H Chart 10/13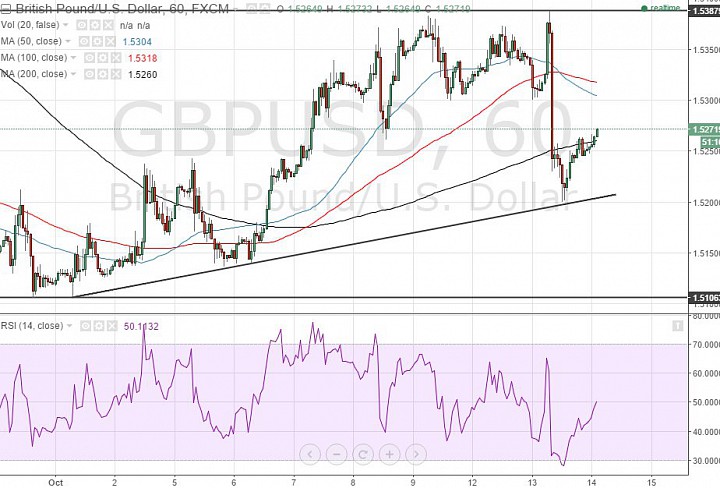 (click to enlarge)

Technical Description: 
Just above 1.52, The GBP/USD was challenged by a rising trendline, and the market reacted by briskly bouncing off this as support. Now, there is likely going to be some reaction around the 1.53 pivot. If price holds under 1.53, the bearish outlook gains confidence. A break above 1.5330 however brings the bullish outlook back into play, especially if the 1H RSI pushes back above 60, and even better ,above 70.

Fundamental Factor:
the negative CPI reading for September (-0.1% y/y) released today weighed heavily on the pound. While the bounce shows that there were buyers around 1.52. It does not mean that there won't be sellers on the current retracement against the bearish reaction.

Technical idea: 
I am looking at the 1.53-1.5330 area as a gauge. To me, that is either a pivot  (downwards), or a gate that might open (upwards).