Altria Group, Inc MO is scheduled to report third-quarter 2017 results on Oct 26. The company's results for the quarter are expected to gain from increased volumes in the smokeless or low-risk tobacco products category. However, challenges in the smokeable category remain concerns.
Revenues to Gain From Smokeless Category Growth
The smokeless category has long been favoring Altria's overall performance, enabling it to respond to consumer shift towards low-risk, smokeless tobacco products. Altria commands a number of strong brands in this category such as MarkTen e-cigarette and Copenhagen amongst others.
Owing to such trends, the Zacks Consensus Estimate for smokeless products net revenue is currently pegged at $562 million, which marks 6.4% increase from the prior-year quarter's figure. Also, the consensus estimate in shipment volumes for the smokeless category is expected to grow 0.03% in the third quarter. We note that the Smokeless category's shipment volumes increased 5.6% in the prior-year quarter, and increased 1.4% during second-quarter 2017.
Underlying Weakness in the Smokeable Category
Rising health consciousness and stringent government regulations surrounding the marketing and pricing of cigarette have been denting the businesses of major tobacco companies such as Phillip Morris International Inc PM, British American Tobacco plc BTI and Vector Group Ltd VGR. Moreover, the recent FDA regulation regarding lowering Nicotine content in cigarettes to non-addictive or minimally addictive levels has further declined traditional cigarettes sales.
These headwinds are expected to impact Altria's total shipment volumes in the smokeable segment during the third quarter. Analysts polled by Zacks expect volumes for this segment to decline approximately 0.05%. We note that shipment volumes in the smokeable category decreased 0.9% in the prior-year quarter, while it slipped 2.7% during second-quarter 2017. Declining demand and volume for tobacco products have also been pulling down Altria's shares. Consequently, the company's shares have lost 11.4% over the past six months, while the industry declined 7.5%.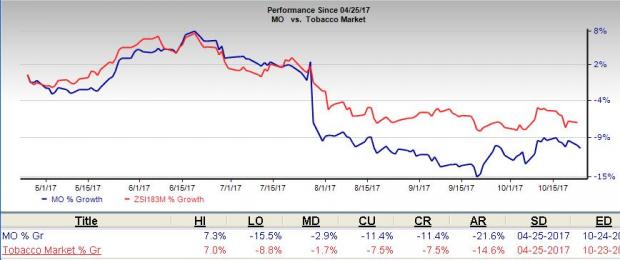 Nevertheless, the smokeable category is expected to benefit from the rising price trend that has been aiding Altria to keep the cigarette category afloat. We expect this to provide some cushion from the negative impacts of volume declines. The Zacks Consensus Estimate for smokeable products net revenue is currently pegged at $6,067 million, which represents a 1.3% dip from the prior-year reported figure..
Nonetheless, benefits from the smokeless category should help boost Altria's total revenues for the quarter. Analysts polled by Zacks expect revenues to be roughly 5.2 billion, which falls almost in line with the year-ago period figure. .
Earnings Expectations
Altria's performance reveals that it has missed bottom-line estimates in the past two quarters. Nevertheless, earnings have been growing year over year for quite some time. Also, earnings for the third quarter are expected to gain from higher smokeless products volumes and revenues as well as strong pricing. The Zacks Consensus Estimate for the quarter is currently pegged at 87 cents, depicting year-on-year growth of over 6%.
Altria Group Price, Consensus and EPS Surprise
What Does the Zacks Model Unveil?
Our proven model does not conclusively show that Altria is likely to beat earnings estimates this quarter. This is because a stock needs to have both a positive Earnings ESP and a Zacks Rank #1 (Strong Buy), 2 (Buy) or 3 (Hold) for this to happen. You may uncover the best stocks to buy or sell before they're reported with our Earnings ESP Filter
Although Altria carries a Zacks Rank #3, its Earnings ESP of -0.49% makes surprise prediction difficult. You can see the complete list of today's Zacks #1 Rank stocks here.
Today's Stocks from Zacks' Hottest Strategies
It's hard to believe, even for us at Zacks. But while the market gained +18.8% from 2016 - Q1 2017, our top stock-picking screens have returned +157.0%, +128.0%, +97.8%, +94.7%, and +90.2% respectively.
And this outperformance has not just been a recent phenomenon. Over the years it has been remarkably consistent. From 2000 - Q1 2017, the composite yearly average gain for these strategies has beaten the market more than 11X over. Maybe even more remarkable is the fact that we're willing to share their latest stocks with you without cost or obligation.
Want the latest recommendations from Zacks Investment Research? Today, you can download 7 Best Stocks for the Next 30 Days.
Click to get this free report
Altria Group (MO): Free Stock Analysis Report
Philip Morris International Inc (PM): Free Stock Analysis Report
British American Tobacco p.l.c. (BTI): Free Stock Analysis Report
Vector Group Ltd. (VGR): Free Stock Analysis Report
To read this article on Zacks.com click here.
Zacks Investment Research