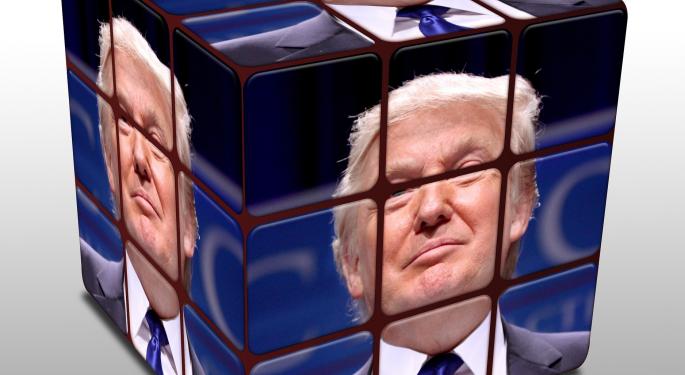 The presidential election is less than seven months away and the two candidates are nearly place. Market participants are now speculating what sectors will benefit or be hurt depending on who is elected.
With a democratic president in place over the last eight years, a Clinton victory may not have as much of impact than if Trump is victorious.
At this time, Clinton's biggest impact may be in the pharmaceutical sector. She has shown her disdain for "profiteering" drug companies. Her pledge to lower drug prescription prices by reforming the way drug companies do business has exerted some selling pressure in this sector.
However, there have been other forces at work to drive share prices lower in this sector. Mainly, the plight of Valeant Pharmaceuticals Intl Inc VRX 4%, which fallen from its all-time high ($263.81) to the $25 over scrutiny regarding its drug pricing models.
Investors that anticipate a President Trump may be fearing the worst. Based on Trump's statement regarding immigration and foreign policy, it almost seems inevitable that the U.S. will be engaged in some type of warfare if he elected.
Investors are putting these scary thoughts to action and aggressively buying defense contractors. With the issues making new 52-week or in some cases all-time highs, this sector clearly stands out.
For example, Raytheon Company RTN 1.27%, Lockheed Martin Corporation LMT 1.18% and Northrup Grumman Corporation Corporation NOC 1.93% all made new all-time highs in Thursday's session. Another defense contractor, General Dynamics GD 0.61%, made a five-month high.
These issues have backed off in Friday's session, which may be attributed to a Stifel downgrade of Lockheed Martin from Buy to Hold based on a valuation call.
As the election nears, owners of issues in the defense contractors may want to keep a close eye on the polls. This may help determine if the uptrend in this sector will continue.
© 2016 Benzinga.com. Benzinga does not provide investment advice. All rights reserved.