Oil prices tumbling 'was' great news for Americans - all those juicy tax cuts to spend on stuff that is not gas (in an entirely zero-sum game of economic value added).. but then prices started to rise. A new meme was created... rising oil prices are great news for Americans - they get to keep their high-paying drilling jobs and gas prices are cheap-ish... Following yesterday's misunderstood statement from the Saudis (that demand for their oil will rise - because US Shale is hosed), the IEA warned this morning that another big build in inventory is likely due to a "dramatic" gain in US stockpiles. That has sent WTI back into the $50 handle range and creates a rather ominous double-top in the crude complex...
It appears the short-squeeze has run much of its course as volumes fade on each spike...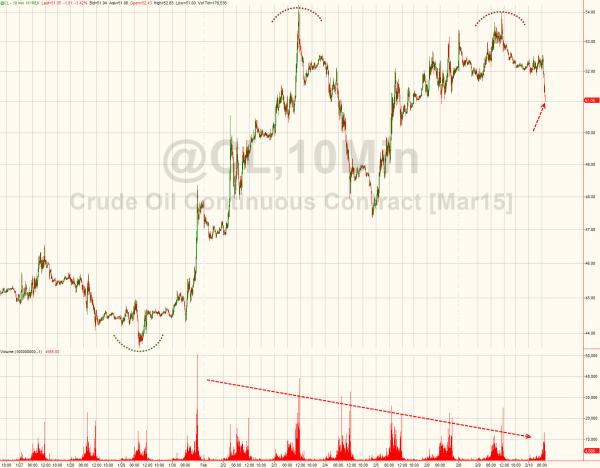 Perhaps it's time for Energy stocks to fall back from hope-ville...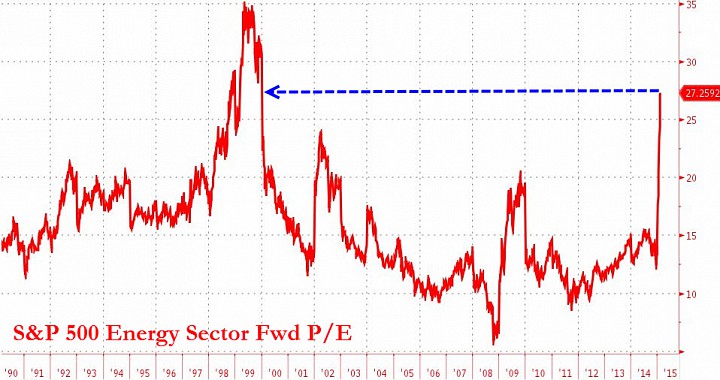 IEA warned...
While the U.S. will pump 200,000 barrels a day less crude this year than previously estimated, drilling from hard-to-penetrate rock formations will still add about 1.6 million barrels to global markets by 2020, the Paris-based IEA said Tuesday.

 

Excess supply will persist to the middle of the year, when oil inventories in industrialized nations may test a record high of 2.83 billion barrels reached in August 1998.
Charts: Bloomberg