At China's largest online retailer, TaoBao, customers can now buy literally everything from discounted groceries, apparel and pet food to defaulted loans on their favorite bankrupt steel company or that awesome condo complex in that unoccupied 'Ghost City' they've always adored.
As an example, you could purchase this lovely snack(?)....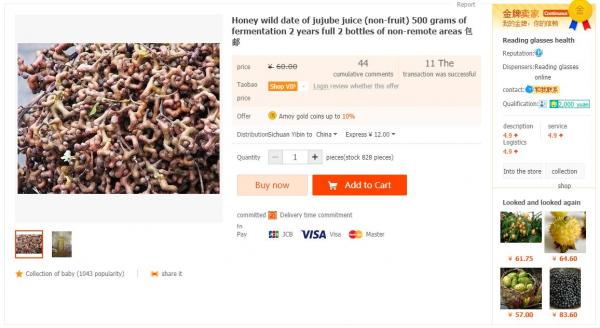 ...or this portfolio of 118 non-performing loans from some companies in Yunnan province....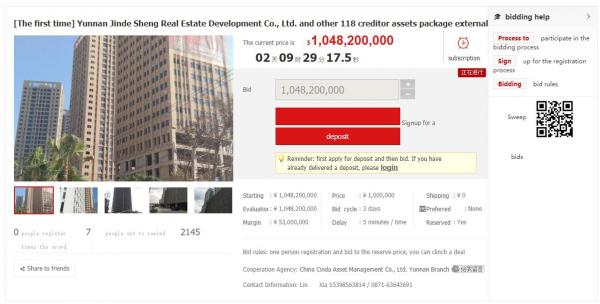 ...or the debt of Zhejiang Hengsheng Steel Structure Co., Ltd, a steel company from Zhejiang, a coastal province in eastern China.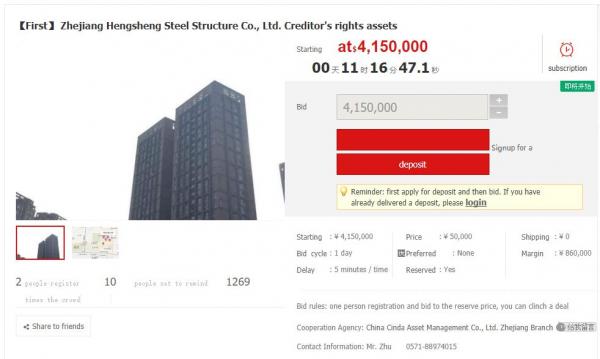 It's a win-win really...these new products offer yet another outlet to quench the insatiable gambling desires of China's populace and allows for worthless assets to once again be re-inflated courtesy of a new manufactured bubble that will ultimately come crashing down on the heads of innocent, unsophisticated investors who had no idea they were even being exploited. It's kind of like the 2008 mortgage crisis except way more transparent.
Of course, the true intent of the online auction of these non-performing loans was beautifully, if unwittingly, summarized by the following quote from Andrew Brown, a partner for macro and strategy in Hong Kong at ShoreVest Capital Partners Ltd. Per Bloomberg:
"The online auction sites open the marketplace up to potential buyers that may not be as diligent in the required analysis that we deem appropriate to price a portfolio," he said. "If you are developing a platform for NPL portfolios, the question is does it allow for appropriate time and access to do the research? It's not like buying and selling stocks."
Yes, because everyone likes to sell their worst assets to folks who "may not be as diligent in the required analysis" to figure out what they're buying and/or how much it might be worth.
The good thing for TaoBao is that there is no shortage of supply when it comes to non-performing loans in China. Slowing growth and an uptick in corporate defaults has fueled the market, with NPLs at commercial banks more than doubling over the past two years to 1.6 trillion yuan as of the end of March. As Beijing pushes lenders to find market-oriented ways of dealing with soured loans, interest in distressed debt has climbed, spurring banks and asset managers to look beyond traditional venues like auction houses and exchanges to dispose of the assets.
China Cinda Asset Management Co. -- one of the country's biggest distressed asset managers, and the firm marketing the steel company's debt -- said last month that it's collaborating with Alibaba to set up a special section on Taobao to auction its wares. Though Alibaba declined to provide data on actual sales, the advertising of such loans shows how interest in the market for China's distressed debt is developing.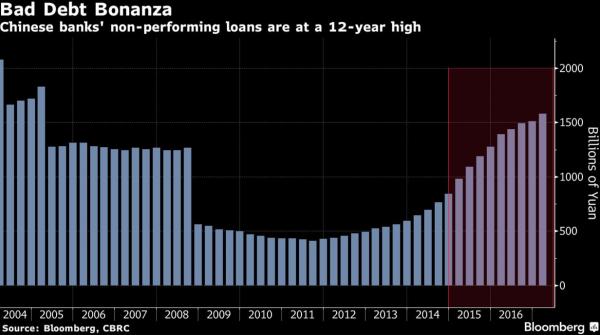 Of course, Taobao isn't the only online retailer pawning off bad debt to unsuspecting investors looking for a good 'get rich quick' scheme. There are more than 50 other websites marketing their services to banks and other sellers of bad loans that have emerged in China in the first half of last year, according to a March report from PricewaterhouseCoopers LLP. More than 20 financial institutions are listed as partners on Taobao's auction platform for soured assets, including Shenzhen-based Ping An Bank Co., Beijing's China Minsheng Banking Corp. and China Citic Bank Corp.
Selling completely illiquid, defaulted loans to unsophisticated individuals with no idea of what they're buying and/or what it's worth but merely looking to get their daily gambling fix...what could go wrong?