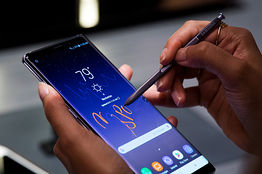 More detail from his note:
In our opinion, post the TMUS/S deal failure there is a reasonable chance that TMUS could make a play for DISH or DISH spectrum as it would immediately vault the most disruptive U.S. wireless player into the leading U.S. spectrum position (w/ substantially more spectrum than underpins Verizon (VZ) "best in class" network). This possible move could force VZ to counter-bid for DISH spectrum (or possibly the entire company) as DISH spectrum is ideally suited for VZ and to keep it out of TMUS' hands. Recall, on a much smaller scale, when VZ earlier this year entered into a bidding war with AT&T(T) over Straight Path (5G spectrum play). In our view, we don't see what TMUS management has to lose in engaging in talks with DISH about a possible deal (either they get high quality spectrum or force VZ to overpay). In addition, AT&T, post their Time-Warner (TWX) deal, could (and frankly should) be interested in purchasing DISH's core DBS business taking advantage of a potentially more laissez faire regulatory climate/emergence of V-MVPD's, to significantly bolster their DIRECTV business (and help to justify the original questionable DTV deal) by creating a SatTV monopoly in ~10-15M US households, increased programming scale and massive synergies at a likely very attractive price.
Dish is up 5.9% to $50.91 in recent trading. Sprint, T-Mobile, AT&T, and Verizon are all trading lower.
More