Roy Moore, the Republican candidate running for Jeff Sessions' old senate seat in a December special election, has seen his standing in the polls plunge following allegations that he had inappropriate sexual contact with a 14-year-old girl in 1979, when he was a 32-year-old assistant district attorney in Etowah County, Ala.
Moore, who has denied the allegations, claiming they are part of a liberal media campaign to discredit him, has resisted calls by powerful Senate Republicans to "step aside" and let a write-in candidate take his place (many have suggested Luther Strange, who was appointed to fill Sessions' seat by former Gov. Robert Bentley who resigned following a sex scandal earlier this year. Strange was defeated in the Republican primary by Moore despite receiving endorsements from President Donald Trump and the GOP Congressional leadership). Some Republicans are even pressuring Alabama Gov. Kay Ivey to delay the Dec. 12 ballot as a means to buy time to force Moore to drop out, the New York Times reported.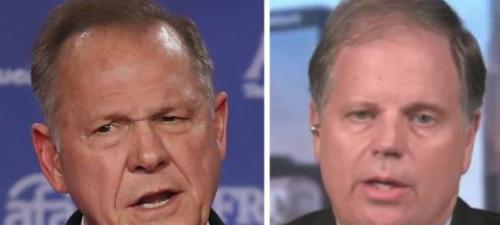 But if the latest polls are accurate, pressure on Moore to step aside will likely intensify as Moore's Democratic opponent, former US attorney Doug Jones has dramatically narrowed the gap, and has even taken the lead, according to some polls. One poll by JMC Analytics released Sunday - the first to cover the period since the scandal broke late last week - found Jones leading Moore 46% to 42%, with 9% undecided and 2% supporting an independent candidate.
In the RealClearPolitics's average of polls, Moore was leading by 6 points prior to the Post report. A Friday poll, the first following the scandal, found Moore and Jones tied.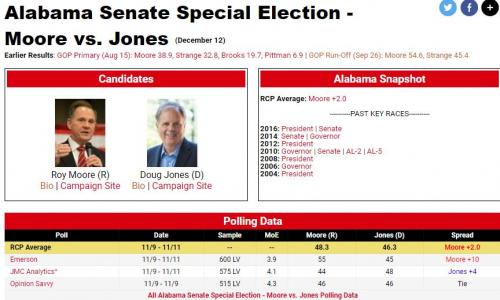 But perhaps the most unexpected finding from the JMC poll was that, while 38% of voters said they were less likely to support Moore following the allegations, a surprisingly large 29% of respondents said they were more likely to support him.
President Donald Trump has said he expects Moore to "do the right thing" and step aside if the allegations are true, but the White House has also cautioned against a rush to judgment. Moore's name will remain on the ballot regardless of whether he drops out, meaning that a write-in would be the only option to replace Moore. Alabama law does not allow candidates to remove their name from the ballot this soon before an election, according to the Hill.
"I have not been guilty of sexual misconduct with anyone. These allegations came only four-and-a-half weeks before the general election on Dec. 12," Moore said on Saturday. "Why now?"
"People have waited to four weeks prior to the general election to bring their complaints," he later added. "That's not a coincidence. It's an intentional act to stop a campaign."
Moore's accuser, Leigh Corfman, first met Moore when she accompanied her mother to court for a child custody hearing. Moore offered to watch Corfman during the proceedings, and at one point asked for her phone number. He eventually picked Corfman up one night and took her back to his home, where Moore, according to Corfman, french-kissed her and touched her over her bra and underwear, before a shaken Corfman abruptly put her clothes back on and demanded that Moore take her home, which she said he did.
Several of Moore's colleagues from his time at the DA's office have told reporters that it was "common knowledge" that Moore dated high school girls during his time as an ADA, a habit that many found "strange," given that Moore - a 30-year-old professional - would go hang out at lunch counters and high school football games. But aside from that, they never thought much of it.
Sessions' seat is a must-win for Republicans, who hold only a slim, two-vote majority in the Senate that has so far stymied the Trump administration's legislative agenda. Moore became a folk hero to many on the religious right during the early Bush years when he was suspended from his post as chief justice of Alabama after refusing to remove a statue of the ten commandments from the Alabama Supreme Court. He later resigned that post during his suspension.
* * *
Read the poll results in full below: