Warren Buffett's biggest investment tip: Be wary of fees.
At the annual meeting of his Berkshire Hathaway Inc., the billionaire warned about the enduring risk of derivatives, defended stocks in his portfolio and signaled that some of the company's biggest subsidiaries are hitting speed bumps. But he saved a prime portion of the weekend event to argue again why investors would be better off ditching expensive money managers and consultants.
After telling shareholders that he would offer "probably the most important investment lesson in the world," he said Wall Street salesmanship has masked poor returns for years. Consultants, he added, have steered pension funds and others to high-fee managers who, as a group, underperform what you could get "sitting on your rear end" in index funds. The arrangements "eat up capital like crazy," he said.
Buffett was building on an argument he's been making for years about why backing U.S. businesses in aggregate, through low-cost funds, is the more certain way to prosper over the long haul. To make his point, he made a bet that a Vanguard Group Inc. fund that tracks the S&P 500 Index could beat a basket of hedge funds from 2008 through 2017. Proceeds will go to charity.
On Saturday, he gave an update: The bundle of hedge funds picked by Protege Partners had returned 21.9 percent in the eight years through 2015. The S&P 500 index fund had soared 65.7 percent.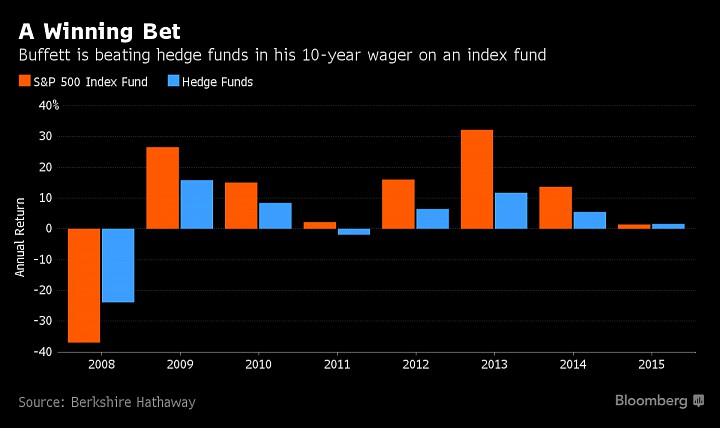 The chart showing results from the wager was "poignant" for the crowd that gathered Saturday in Omaha, Nebraska, said David Rolfe, who oversees $8.5 billion including Berkshire shares at Wedgewood Partners Inc. Buffett was "pounding the table pretty hard," said Rolfe. "There's a lot of high-profile money managers in this audience, and most of them are probably not earning their fees."
Compounding the...
More