About to take a 10% loss on ANF if I can exit around 24 after going long back in January around 26.50. Looking at the 4H chart below, we can see that ANF is breaking below a rising trendline in a very persistent downswing, the steepest we have seen since the one that started in Sept 2015, which swung from around 45.15 to 20, before stalling and eventually extending to 15.40. 

ANF 5/12 4H Chart 5/12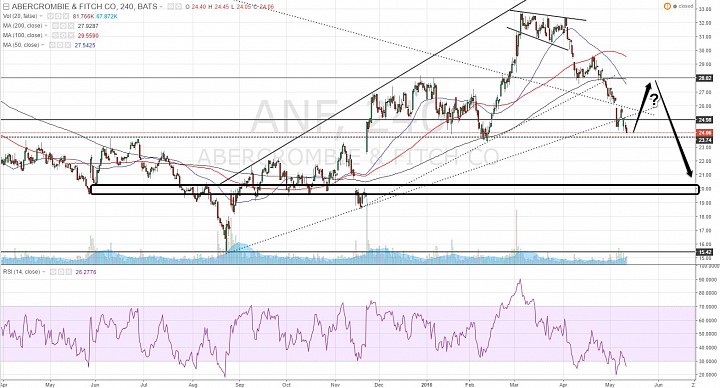 (click to enlarge)

Look at the 4H chart, I can see some possible buying around 23.50, but I also see downside risk towards the 20.00 handle. Ideally, I want to exit on a rally possibly back to 28. I do see a possible bullish correction that has upside risk to 28. If price can stabilize around 24, I will give this prospect a chance. A break below 23.50 on the other hand should my exit with a slightly higher than 10% loss. 
I rather get some more cash ready for WEN as it pulls back after a bullish breakout.