NZD/USD has been falling sharply since the 0.8835 high on the year, established in July. We have not seen any meaningful consolidation, and it continues to fall this week. 

NZD/USD Weekly Chart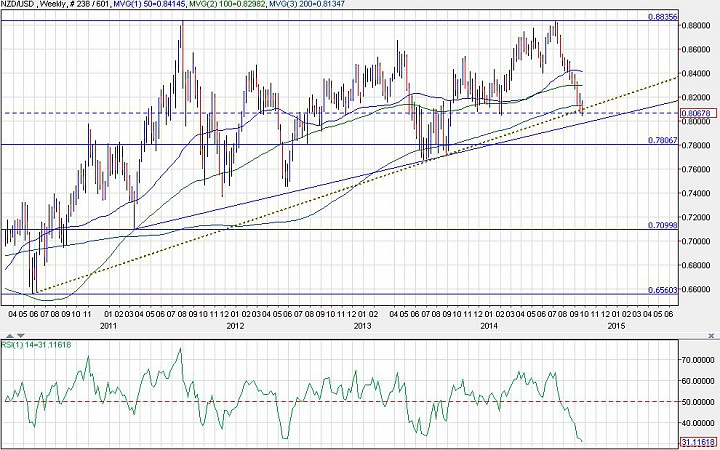 (click to enlarge)
Now, as we can see in the weekly chart, price has broken below the 200-week simple moving average (SMA), and cracked a rising trendline from the 2010-low of 0.6560. Price has also cracked the previous 2014-low which was at 0.8051. The current low is 0.8045. 

The current bearish momentum should take NZD/USD lower, but when it gets to 0.80, and a rising trendline from 2011's low around 0.71, we can expect some consolidation, especially with the weekly RSI dipping into oversold territory.

Watch Dairy Prices:
If NZD/USD is to find reprieve, a rebound in dairy price can help. New Zealand is a major exporter of dairy and thus price of dairy and dairy products affect the economy, and thus is correlated with Kiwi (NZD). 

When we look at the trend of dairy prices, we can see that it has fallen sharply since February this year. It did flatten in the past 2 weeks, but if the next data point continues to be a decline, it will be hard for NZD/USD to rebound.  
Dairy price index:


(click to enlarge; source: GlobalDairyTrade)