Stocks may have wobbled late last week, but at least they held their ground. That's something. Unfortunately, it didn't do them a whole lot of good. Tuesday's strong selloff wasn't undone, and that was enough to leave the S&P 500 under the pivotal 20-day moving average line for the week. Indeed, the index is within striking distance of a much bigger support level... and traders are struggling to find more reasons to keep the market propped up.
We'll weigh the odds and gauge the momentum below, as we always do. Before we get into the technical analysis though, let's paint some broad brush strokes with this week's and next week's economic numbers.
Economic Data
It would have been easy to not notice in, as it was overshadowed by all the political rhetoric (and political grandstanding), but last week was actually rather busy in terms of economic news. Much of it was more important than not too. We'll just dive in so we can get through it quickly, starting with durable orders.
Bad news on that front, by the way. Analysts were expecting a fairly tepid showing, and we couldn't even clear those low hurdles. Overall orders were down 1.1% -- thanks to a lull in transportation orders -- but even taking planes, trains and automobiles out the equation we still only saw a 0.1% improvement. The pros were calling for 0.3% growth.
Durable Orders Charts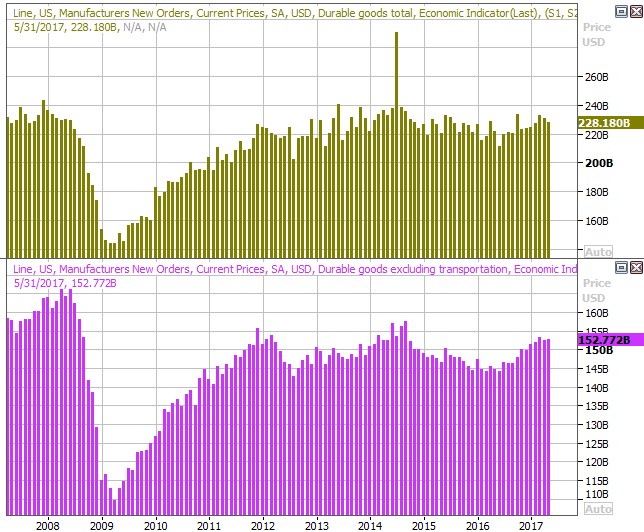 It's a little too soon to sound the alarm bell yet, but it looks like orders are stagnating.
We also got the Case-Shiller home price report for April last week, rounding out the FHFA home price report from a couple of weeks back. Another big step forward, even if not as much as expected.
Case-Shiller and FHFA Home Price Charts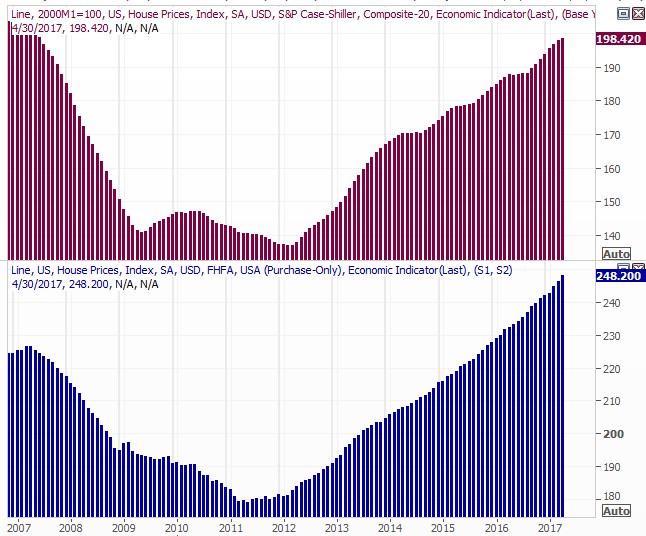 Home prices aren't a problem, even if a lack of home sales is.
It was also a big week for consumer sentiment data, with the Conference Board's consumer confidence score for June being posted on Tuesday, and the third (and final) Michigan Sentiment Index score being reported on Friday. Both were up despite geopolitical reasons for concern, suggesting the nation's spenders feel good enough about the country's economic prospects that we'll push through any problems. As long as consumers are feeling good, they'll spend accordingly. To that end, incomes were up 0.4% last month, rolling in a bit higher than expected...
More