Today, investors often place their faith in stocks that they think are poised to grow exponentially in both the near and long-term. This often leaves growth-minded investors fixated on stocks such as Amazon AMZN and Facebook FB, which continue on their meteoric climbs.
Yet, at a time when many investors target superior growth—often in favor of many other metrics—value investing can still be a solid way to invest.
A company that currently presents great value for investors is Prudential Financial PRU.
Let's take a look at Prudential's most recent quarterly results and more of the financial firm's current fundamentals to help investors gauge whether they want to consider Prudential stock at this time.
Fundamentals
Prudential posted its third-quarter results last week. The firm reported earnings of $3.01 per share, which beat Wall Street expectations and also marked a 13.2% year-over-year gain. Prudential's revenues jumped over 10% to hit $13.4 billion (also read: Prudential Financial (PRU) Q3 Earnings and Revenues Beat).
Prudential is currently a Zacks Rank #2 (Buy) and sports an "A" grade for Value in our Style Scores system.
One of the first major value indicators many investors often point to is a company's price to earnings ratio. Prudential is currently trading at 10.92x earnings, which marks big discount compared to the "Insurance - Multi line" industry's average.
On top of its solid PE ratio, Prudential's 0.84 price to sales ratio is also strong and comes in well below its industry's 1.07 average. The firm's P/S ratio also marks a discount compared to some of its biggest competitors, such as AIG AIG. Prudential's P/B ratio of 0.84 is also a major discount compared to the industry and helps boost the firm's overall value-based resume.
Along with these valuation metrics, Prudential currently presents a decent dividend yield of 2.68%.
Prudential Financial, Inc. PS Ratio (TTM)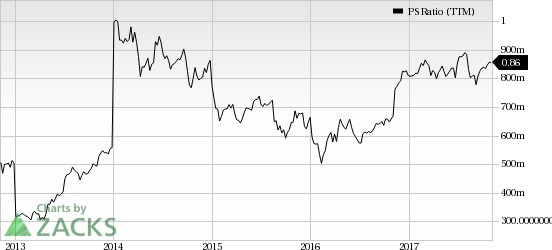 Prudential Financial, Inc. PS Ratio (TTM) | Prudential Financial, Inc. Quote
Shares of Prudential have gained almost 30% over the last year, and 5.45% during the last 12-weeks.
And just so investors don't leave thinking that Prudential is only a value investment, the company rocks an "A" grade for Momentum in our Style Scores system to help it earn an overall VGM grade of an "A."
The company's Q4 earnings are expected to gain 3.56%, based on our current Zacks Consensus Estimates. Prudential's EPS is projected to jump nearly 13% for the full-year.
Wall Street's Next Amazon

Zacks EVP Kevin Matras believes this familiar stock has only just begun its climb to become one of the greatest investments of all time. It's a once-in-a-generation opportunity to invest in pure genius. Click for details >>
Want the latest recommendations from Zacks Investment Research? Today, you can download 7 Best Stocks for the Next 30 Days.
Click to get this free report
American International Group, Inc. (AIG): Free Stock Analysis Report
Prudential Financial, Inc. (PRU): Free Stock Analysis Report
Amazon.com, Inc. (AMZN): Free Stock Analysis Report
Facebook, Inc. (FB): Free Stock Analysis Report
To read this article on Zacks.com click here.
Zacks Investment Research