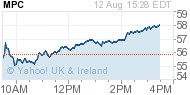 (Adds quotes, detail on differential highs and refinery outages)
HOUSTON, Aug 12 (Reuters) - Chicago cash gasoline differentials hit their highest since 2008 this week on the prospect of a month-long shutdown of the top crude unit at BP Plc's Indiana refinery, the largest in the region, traders said on Wednesday.
While the market talked up the premium of Chicago wholesale gasoline to a range of bids and offers that were 75 cents to 80 cents over September RBOB futures on the New York Mercantile Exchange on Wednesday, traders said no deals were seen. Instead, players sat back after a flurry on Tuesday that pushed differentials to a 65-cent premium - up from a 2.5-cent discount to futures on Friday.
"No one wants to be stupid. No one wants to be the guy that buys the high," a Midwest trader said.
The...
More