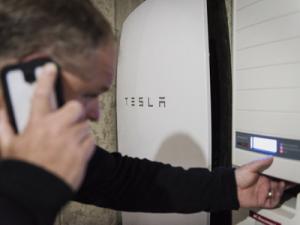 To Steve Yates, the best thing about his new Tesla Powerwall is that he doesn't have to worry anymore about the lights going out during a storm. Or maybe it's how cool an addition it is to the entryway of his house in Monkton, Vermont.
"I've always wanted to have a backup power source," said Yates, who was without electricity for 36 hours during Hurricane Irene in 2011. He also admires the Powerwall's sleek white contours. "It's kind of art-deco looking."
More from Bloomberg.com: The Super Rich Were the First to Bail During the Financial Crisis
A year after Elon Musk unveiled the Powerwall at Tesla Motors Inc.'s design studio near Los Angeles, the first wave of residential installations has started in the U.S. The 6.4-kilowatt-hour unit stores electricity from home solar systems and provides backup in the case of a conventional outage. Weighing 214 pounds and standing about 4-feet tall, it retails for around $3,000. But hookup by a trained electrician is required, as is something called a bi-directional inverter that converts direct-current electricity into the kind used by dishwashers and refrigerators. The costs add up quickly -- which has fueled skepticism about Musk's dream of changing the way the world uses energy.
Net-metering policies, which allow residential solar customers to sell their excess solar electricity back to utilities, have limited the appeal of home batteries in many states. But that's shifting: Net metering is being phased out in some states, making storage more attractive.
More from Bloomberg.com: Hedge Funds Under Attack as Steve Cohen Says Talent Is Thin
"The picture is rapidly changing across several markets," said Yayoi Sekine, an analyst for Bloomberg New Energy Finance. "Changes to net-metering policies and implementation of time-of-use rates will improve the case for residential energy storage systems going forward."
Sales Emerging
For Yates, money wasn't an issue: he got his unit for free from Green Mountain Power as part of a...
More