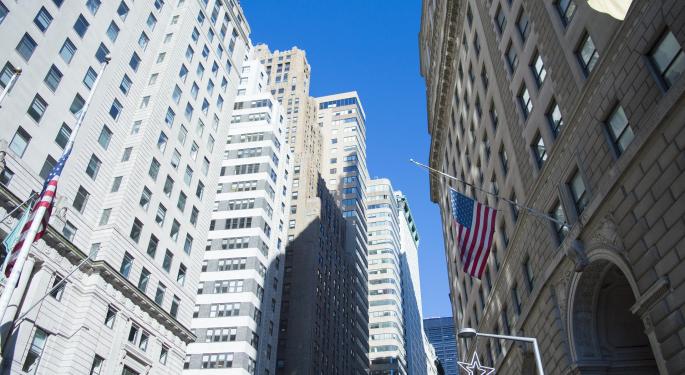 Below is a tool used by the Benzinga News Desk each trading day -- it's a look at everything happening in the market, in five minutes. Apply for daily AM access by clicking here or email minutes@benzinga.com.
Macro Focus
Asian stocks were mostly lower on Thursday with a notable exception coming out of Japan. India's Mumbai Sensex index was higher by 0.75 percent. Reuters noted that the country's upper house of Parliament passed a new bankruptcy code to address corporate debts and improve the ease of doing business.
Oil prices were also higher early Thursday morning after the International Energy Agency suggested that global oil inventory will undergo a "dramatic reduction" in the bottom half of 2016 due to strong global demand and decreasing supply from major producers.
The price of brent crude rose around 1 percent to trade at $46.67 a barrel, while WTI crude rose 0.8 percent to trade at $47.96 a barrel.
USA Initial Jobless Claims for May 7 294.0K vs 270.0K consensus estimate. USA Continuing Claims for Apr 29 2.16M vs 2.12M consensus estimate.
BZ News Desk Focus
Some of this morning's and last night's most notable earnings:
Kohl's KSS 9.9% Reports Q1 EPS $0.31 vs. Est. $0.37, Rev. $3.972B vs. Est. $4.13B
Party City PRTY 7.76% Reports Q1 EPS $0.04 vs. Est. $0.03, Rev. $458M vs. Est. $471M
Perrigo PRGO 1.89% Reports Q1 EPS $1.75 vs $1.75 Est; Revenue $1.383B vs $1.35B Est
Jack In The Box JACK 14.35% Reports Q2 Adj. EPS $0.85 vs $0.70 Est., Sales $361.151M vs $360M Est.
Sell-Side's Most Noteworthy Calls
Northland Securities downgrades Macy's M 1.75% to Neutral.
Wells Fargo downgrades Janus Capital JNS 0.91% to Market Perform.
Barclays upgrades Sanofi SNY 0.48% to Overweight.
BMO upgrades Yamana Gold AUY 0.68% to Outperform.
JPMorgan initiated General Electric GE 1.08% at Underweight.
Berenberg initiated Pfizer PFE 0.03% at Hold.
Deal Talk
Shares of Monsanto MON 8.65% surged by more than 17 percent after the company was named as a potential takeover target.
Buy-Side
"Not even the encouraging words of a private equity titan could brighten the mood of some of the world's top hedge fund managers," Bloomberg writes.
In The News
The Olympics are such a television ratings juggernaut for NBCUniversal that rival U.S. networks have always watched from the sidelines, Reuters notes, airing reruns and other cheap programs that are not going to attract many eyeballs. However with a growing number of people now viewing shows on-demand, CBS CBS 0.75% and Discovery Communications DISCA 1.17% for the first time plan to pit new or popular shows against the global sporting event.
T. Boone Picks had an interesting conversation at SALT 2016: "Investing in oil in America is a far superior bet than investing overseas. 50 percent of drills are in America because we are the best. Our people, our technology – it's the best."
George Zimmerman plans to auction the gun he used to kill Trayvon Martin. The bidding starts at $5,000.
Blogosphere
Mitt Romney blasted Donald Trump for not releasing his tax returns, leading Timothy O'Brien to write about the time he did see Trump's return 10 years ago.
Nightmare on Wall Street: Wall Street Journal looked at how banks have lost $300 million due to cancelled M&A deals.
Trending
MON AMZN HIMX KSS RL JACK BLOK PMTS LXU RVLT SINA YY [StockTwits]
Fox FOXA 0.26% was all over social media, as the #TeenChoice Awards began making headway, while the popular "Empire" program continued to captivate viewers.
| Date | Firm | Action | From | To |
| --- | --- | --- | --- | --- |
| May 2016 | BMO Capital | Upgrades | Market Perform | Outperform |
| Mar 2016 | Raymond James | Upgrades | Market Perform | Outperform |
| Feb 2016 | Goldman Sachs | Downgrades | Neutral | Sell |
© 2016 Benzinga.com. Benzinga does not provide investment advice. All rights reserved.
Source