PepsiCo (PEP) reported Q2 earnings last Thursday, beating expectations on the EPS front, while slightly underachieving with respect to sales. Q2 EPS came to $1.38 per share, or $1.35 officially when considering restructuring charges and mark-to-market commodity prices. Currency headwinds also brought EPS down about $0.05 per share. Organic revenues grew slightly above 3%, though were hurt overall due to the net effects of foreign exchange translations and accounting for the fact that PEP no longer consolidates its Venezuela subsidiary operations on its financials. PEP's margins slightly grew in Q2 as a result of higher pricing and lower commodity prices.
Many might argue that the biggest ongoing threat to PEP's business model lies in changing consumer preferences. As a greater amount of the population becomes more health conscious, sugary beverages and the nutritional shortcomings of many snack offerings may see waning consumer demand. Many may also disagree with the taste of diet soda or express reservations with respect to artificial sweeteners.
However, I really don't see health and wellness related concerns being a huge issue moving forward. McDonalds (MCD) saw these same types of concerns regarding secular stagnation about a decade ago with documentaries such as Super Size Me chronicling the health perils of salty, sugary, fatty, calorie-laden snacks. But, needless to say, the business has done just fine since. Similar to MCD, Coca-Cola (KO), and Dr. Pepper Snapple (DPS), PEP's main consumer base typically tends to be lower- to middle-class consumers who may be less concerned with these types of issues, as opposed to the majority of those making financial and economic judgments about the business. The health and wellness movement has been in play for quite a few years now, yet PEP is still remarkably consistent with steadily recurring cash flows and strong overall operating performance.
Despite this, PEP is a company with a strong worldwide brand in not only beverages but over 70% of the market with respect to its Frito-Lay snacks unit, including snacks such as Doritos, Cheetos, Lays, Tostitos, Fritos, Ruffles, among other popular mainstays. The company also owns Quaker Foods.
Activist investor Trian Partners wanted to break up the company to unlock value, such as spinning off the Frito-Lay segment. But that never materialized and appears to be no longer on the table. Trian exited its stake in March 2016.
-
Capital Structure
PEP's capital is comprised of about 82% equity and 18% debt. Its total cost of debt is slightly above 4%. The capital asset pricing model would place PEP's cost of equity at under 7%. PEP, as a mature conglomerate, is a low-volatility stock that regularly offers a reliable dividend yield in the 2.7%-2.9% range. Accordingly, PEP's discount rate/WACC in a DCF model is going to be relatively low with respect to most companies. I have it at just 6.02%.
Based on my own analysis, PEP's capital structure is fully optimized right where it is. The company is properly levered for value maximization and has no need for further debt issuance. As the following graphs demonstrate with respect to PEP's enterprise value, share price, and WACC, PEP is best capitalized at about 85% equity and 15% debt.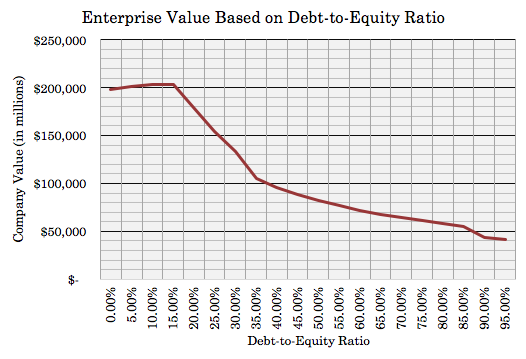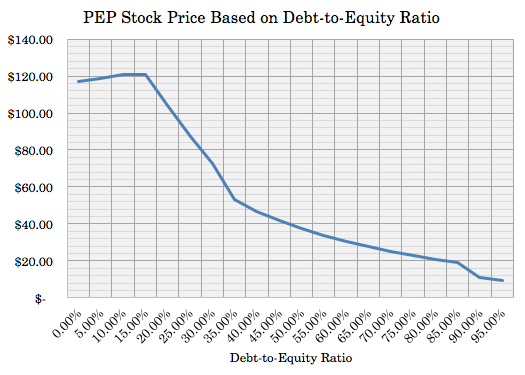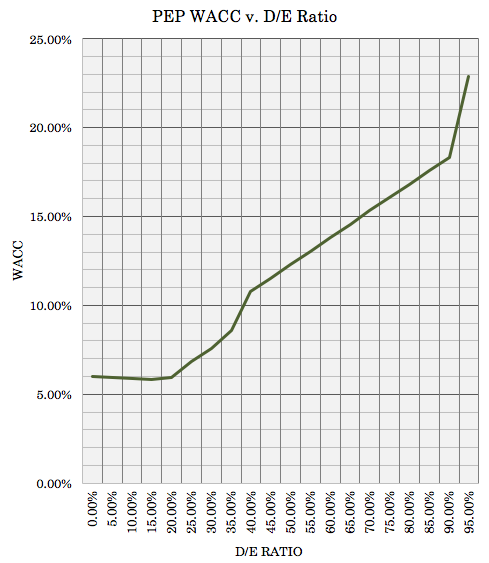 -
Valuation
I have the following financial/operating assumptions for PEP going forward:
2016 revenue of $62 billion. This would be the lowest sales figure in the past five years, but sales are expected to rebound in 2017. I have 3% revenue growth year-over-year.
EBITDA margins of 17% throughout the projection period. The company's EBITDA margin has normally fallen in the 18%-19% range, but fell to 17% for the FY2015. The company's pre-tax margins expanded in Q2 2016, but 17% should be a fairly conservative and achievable long-term figure.
With depreciation and amortization expense at approximately 3.8% of revenue per year, that leaves EBIT margins at just over 13%.
At an effective tax rate of 25%, this gives NOPAT margins of just under 10% and profit margins (i.e., taking into account interest expense) of about 8% long-term. These figures work to low-ball FY2016 EPS and forward-looking EPS expectations and appear to be sufficiently conservative.
Capital expenditures stay relatively proportional to sales year to year. I have capex pegged at 4.3% of sales per year. Working capital growth is assumed at 2% of sales per year.
At a cost of capital at 6.02%, this gives PEP an estimated enterprise value of $200.4 billion. Making debt and excess cash adjustments, I estimate the company's equity value at $172.4 billion. With 1,456 million diluted shares outstanding, this gives PEP an estimated median price of $119 per share. Using a standard WACC adjustment of +/- 50 basis points, this gives a range of $103-$138 per share. Expanding the perpetual growth rate assumption from the standard 2% assumption by +/- 50 basis points gives a range from $95-$157 per share.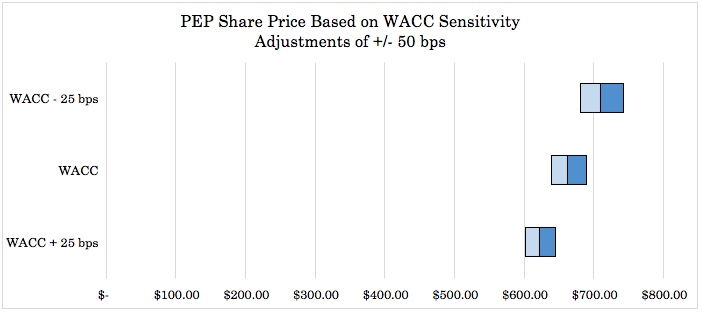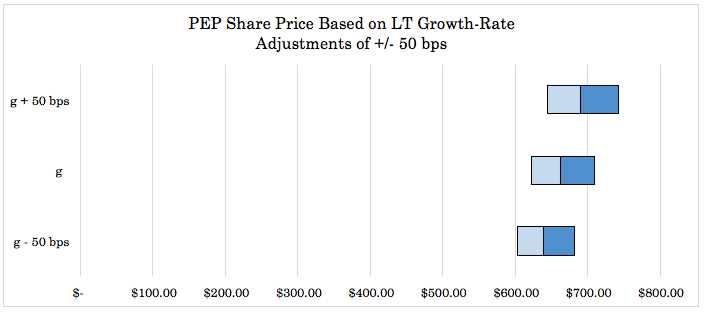 -
Conclusion
The valuation results offered above give a fairly sizable estimation range. It's relatively rare to find large-cap companies trading outside of it so long as you're not using overly bullish or bearish assumptions either way. PEP does, however, seem to be trading on the lower end of this valuation range, about 9% undervalued relative to the median reading. It's not a company I would own at this price on the expectation of undervaluation/capital appreciation, but is a popular pick among income investors or those with preferences for longer-term holding periods.