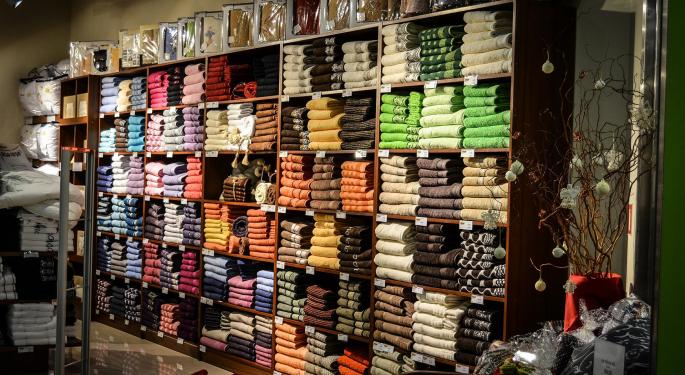 Paul Trussell, an analyst at Deutsche Bank, attended J C Penney Company Inc JCP 4.42%'s Analyst Day event and stated that the company presented a "readily achievable" three-year plan.
Despite Trussell's optimism, he acknowledged that the bears will require "more reassurances" that JCPenney's near-term third- and fourth-quarter hurdles "can be cleared first." With that said, the analyst did offer his top 10 takeaways from management's presentation.
10 Takeaways
1. Targets: JCPenney's new three-year target of 3–4 percent sales compounded annual growth rate (CAGR), 75–100 basis points of margin expansion, $450million–$500 million in net income and $1.40–$1.55 in earnings per share appear to be "achievable, if not beatable."
2. Traffic Trends: JCPenney is already seeing positive traffic trends due to new integrated marketing techniques.
3. Loyalty: The company's new loyalty program has already generated a 5 percent increase in revenue per customer.
4. Private Brand Names: Private brands continue to drive value for the consumer and allow the company to be quicker to market new fashionable items.
5. Store-In-Stores: Sephora and other store-in-store initiatives boast higher sales per square foot and the company is expanding its efforts in this segment.
6. Boutique+: Boutique+ was introduced in 500 stores to broaden plus-size sales.
7. Appliances: Initial appliance sale tests in 22 stores was successful and the company will roll out appliances in 500 stores in the fall.
8. Management/Associates: Management has a plan to boost productivity of its store associates who will now focus more on selling and helping clients.
9. Omnichannel, E-Commerce: Growing mobile and the omnichannel remain top priorities, and management will continue investing in these initiatives.
10. Supply Chain: JCPenney continues to "make strides" in improving its supply chain channel through localization and modernizing the entire process.
Shares of JCPenney remain Buy rated with an unchanged $12 price target.
Date
Firm
Action
From
To
Aug 2016
Morgan Stanley
Maintains
Underweight
May 2016
UBS
Maintains
Sell
May 2016
Citigroup
Maintains
Neutral
© 2016 Benzinga.com. Benzinga does not provide investment advice. All rights reserved.