Houston-based Quanta Services, Inc. PWR successfully accomplished the acquisition of Stronghold, Ltd. and Stronghold Specialty, Ltd. (Stronghold) against an upfront payment of $450 million. The company noted that this deal would reinforce its Oil and Gas Infrastructure Services' business, moving ahead.
In the upcoming quarters, the company believes that its strategic business buyouts as well as multi-year business up-cycling strategy would drive top- and bottom-line performances. In May, the company raised its revenue and earnings guidance for 2017.
Over the last one month, shares of this Zacks Rank #2 (Buy) stock yielded a return of 2.35%, as against the loss of 0.06% incurred by the industry.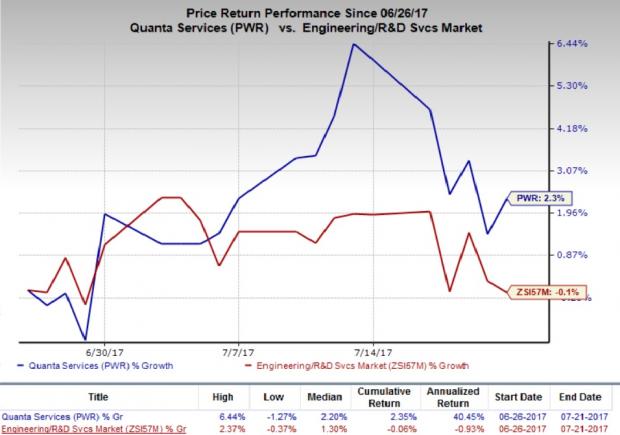 Notably, the attractiveness of this stock as a current investment choice is further accentuated by its favorable Vale Growth Momentum Style Score 'A'.
Inside the Headlines
Stronghold is a premium Texas-based specialized services company offering critical path and high-pressure solutions within the global midstream and downstream energy markets. The company generated revenues of nearly $500 million in 2016 and has widened its operations into 10 separate specialty services companies (each embracing immense potential for growth).
Quanta Services noted that the Stronghold buyout is in sync with its long-term growth programs. Stronghold's improving operating margin profile, recurring top-line performance and robust capability of accruing free cash flow would likely help in boosting Quanta Services' financials in the near term.
Notably, this deal is anticipated to generate revenues within the range of $6–$7.5 million in 2017. It will also likely bolster the company's earnings within the range of 6–7 cents per share in 2017.
Quanta Services' upfront payment of $450 million comprised $360 million cash and 2.7 million shares worth $90 million.
Other Stocks to Consider
Some other top-ranked stocks in the industry are listed below:
D.R. Horton, Inc. DHI generated an average positive earnings surprise of 4.03% over the trailing four quarters and currently flaunts a Zacks Rank #1 (Strong Buy). You can see the complete list of today's Zacks #1 Rank stocks here.
KB Home KBH, which also sports a Zacks Rank #1 at present, pulled off an average positive earnings surprise of 12.47% over the last four quarters.
Lennar Corporation LEN currently holds a Zacks Rank #2 and has an average positive earnings surprise of 10.58% for the past four quarters.
More Stock News: This Is Bigger than the iPhone!
It could become the mother of all technological revolutions. Apple sold a mere 1 billion iPhones in 10 years but a new breakthrough is expected to generate more than 27 billion devices in just 3 years, creating a $1.7 trillion market. Zacks has just released a Special Report that spotlights this fast-emerging phenomenon and 6 tickers for taking advantage of it. If you don't buy now, you may kick yourself in 2020. Click here for the 6 trades >>
Want the latest recommendations from Zacks Investment Research? Today, you can download 7 Best Stocks for the Next 30 Days.
Click to get this free report
Quanta Services, Inc. (PWR): Free Stock Analysis Report
Lennar Corporation (LEN): Free Stock Analysis Report
KB Home (KBH): Free Stock Analysis Report
D.R. Horton, Inc. (DHI): Free Stock Analysis Report
To read this article on Zacks.com click here.
Zacks Investment Research