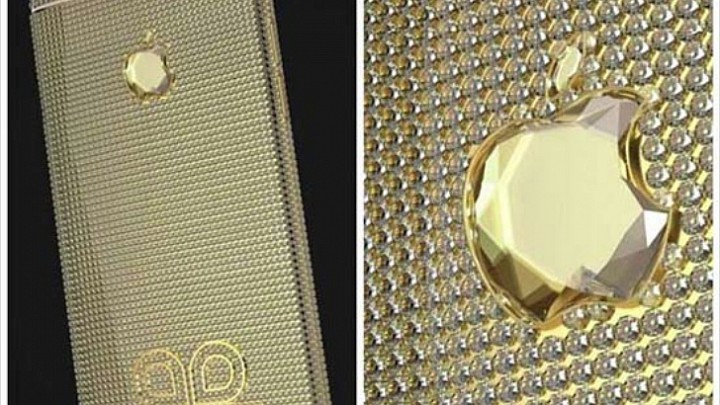 Whether you like what Apple has done with their freshly unveiled iPhone 6 or not, we're pretty sure you're going to have a jaw-dropping moment with this one. Handset with over 6,127 brilliant cut diamonds, it will take two months to make and will cost about the same as you'd need to buy three hybrid supercars, the LaFerrari, Porsche 918 Spyder and McLaren P1, all together.
Opulence, exclusive taste and breath-taking handcraft. These words you'd use to describe the world's most expensive iPhone 6. After unveiling their latest smartphone, Apple announced they've commissioned British jeweler Alexander Amosu to design the staggering eccentric piece of jewelry. Calling it "Amosu Call of Diamond iPhone 6" it will take two months to make by recreating the full body in solid 18ct gold weighing approximately 85 grams and painstkingly handset with over 6,127 brilliant cut diamonds.

It's not the first time Apple has worked with Amosu, as he previously created diamond-clad forms of the iPhone 2, among other exclusive gadgets covered in jewels. According to Luxuryes, the apple will be cut to the exact shape of the Apple logo from 51.29 carat (10.258 g) with a cushion flawless cut.

Even though we'd obviously go for the hybrid supercars, in the rare (which reads "most likely not") case you actually have similar bank accounts like say the Crown Prince of Abu Dhabi, Mohammed bin Zayed bin Sultan Al Nahyan, you'll probably be the happy (really?) fellow that gets to spend all that money for one heck of a smartphone.

If not, however, you may also consider the "cheaper version" which is Amosu 24ct Gold iPhone 6 priced at (only?) $3,893. Right. Move on.
http://www.autoevolution.com/news/worlds-most-expensive-ipho...