Canadian Solar (NASDAQ: CSIQ) is one of the world's biggest solar manufacturers, making nearly one in every 10 solar panels installed in a year. But for having a major market share in a booming industry, it's not a very valuable company. It's worth less than $1 billion on the market today, and its financial position seems to be getting weaker. 
To explain why an important solar company can be in tough shape financially, I think it's important to look at how Canadian Solar got here.
Growth at all costs
Canadian Solar has been on a growth tear over the past decade. Revenue is up more than tenfold over the past decade, as the company went from an upstart to a big player in solar energy. 
CSIQ Revenue (TTM) data by YCharts
You can't just build a major solar manufacturer for free, though. And Canadian Solar has taken on billions in debt to build out manufacturing capacity.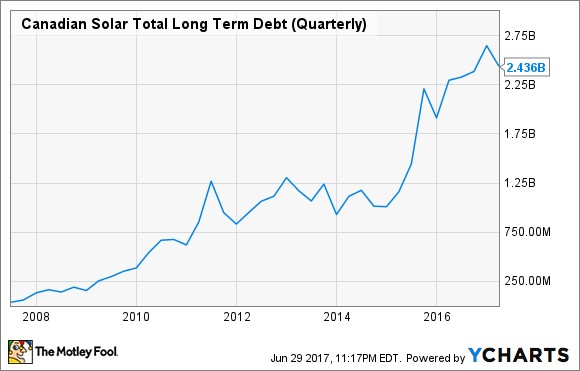 CSIQ Total Long Term Debt (Quarterly) data by YCharts
Most of this debt is short-term, funded by Chinese banks. They've funded most of the companies expanding manufacturing in China and kept the money flowing to keep companies growing. But at some point, Canadian Solar is going to have to make enough money to pay off this debt. And that's where investors have to start wondering how sustainable Canadian Solar really is. 
The margin problem
The challenge every solar company faces is that technology changes quickly, and being a leader today doesn't guarantee leadership tomorrow. In fact, most solar equipment is obsolete in just a few years, so the money Canadian Solar built in five years ago is already becoming obsolete today. 
This constant arms race combines with a highly competitive solar environment the past two years as the industry deals with oversupply. And you can see that margins are down as a result.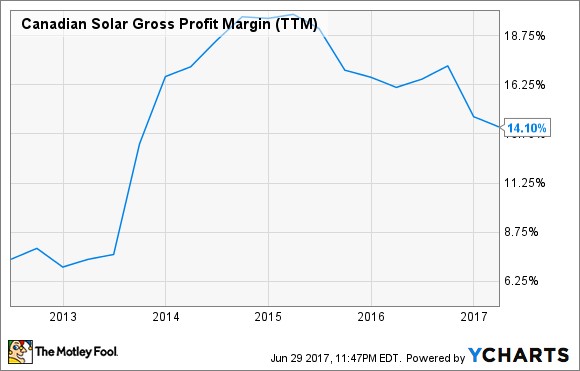 CSIQ Gross Profit Margin (TTM) data by YCharts
This may be a difficult challenge to overcome. Multi-silicon capacity that Canadian Solar has in China is becoming less valuable as higher-efficiency technology comes down in cost. And eventually, some of this capacity will have to be written off and replaced, which could be a problem given the debt on the balance sheet. And the margin decline you see in the past two years shows that any competitive advantage the company had is already deteriorating. 
Unless Canadian Solar can build a durable competitive advantage in solar, it's tough to see how it will be able to improve finances and earn a long-term profit. Trying to stay a step ahead in the commodity solar industry doesn't have a long history of success. And if you need a warning sign of what happens to the biggest solar manufacturers in the world with billions in debt just look up Suntech Power, Q-Cells, or Yingli Green Energy. They're a cautionary tale of the difficult position Canadian Solar finds itself in.  
10 stocks we like better than Canadian Solar
When investing geniuses David and Tom Gardner have a stock tip, it can pay to listen. After all, the newsletter they have run for over a decade, Motley Fool Stock Advisor, has tripled the market.*
David and Tom just revealed what they believe are the 10 best stocks for investors to buy right now... and Canadian Solar wasn't one of them! That's right -- they think these 10 stocks are even better buys.
Click here to learn about these picks!
*Stock Advisor returns as of June 5, 2017

Travis Hoium has no position in any stocks mentioned. The Motley Fool has no position in any of the stocks mentioned. The Motley Fool has a disclosure policy.