First of all we should precisely look at the conception of this company. The main idea of Priceline is helping users obtain discount rates for travel-related purchases such as airline tickets and hotels. Priceline became known because of very useful Name Your Own Price system, which gives you an opportunity to insert your budget on the system and the system select your opportunity for traveling including general location, service level and average price.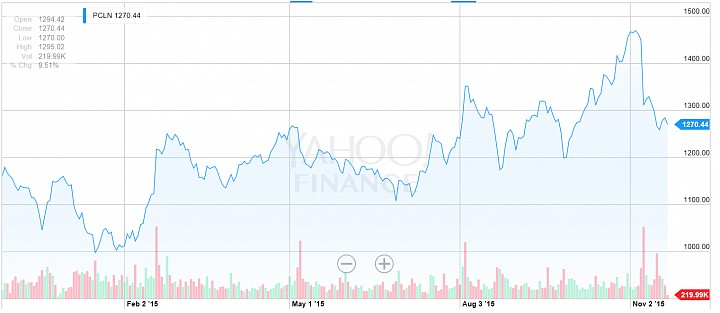 From a financing prospective, 2014 was a really good year for the company. Priceline are continuing to grow faster than other companies in this sector. Priceline's gross travel booking was increasing year-over-year.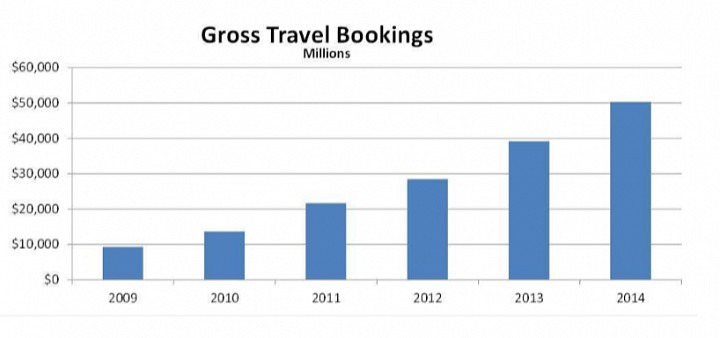 Also Priceline's grow could be explained in significant earnings growth. According to financial statement EBIDTA of Priceline also increases during 5 years, and also growing its earnings faster than other international companies in this market. Over the three-year period from 2012 to 2014, the Company has earned $8.1 billion of adjusted EBITDA and generated $7.0 billion of cash fromoperating activities, representing increases of approximately 174% and 166%, respectively, over the prior three-year period.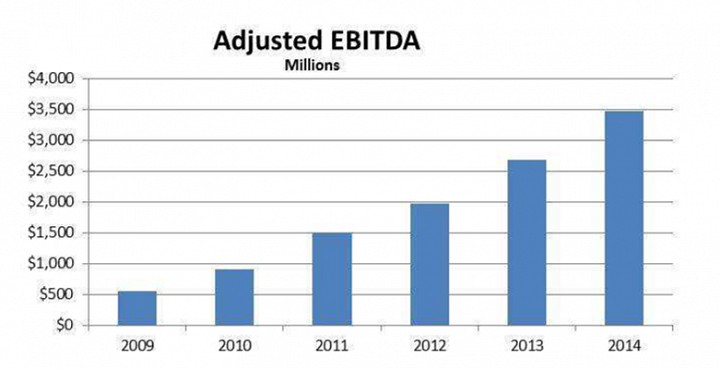 The amount of percentage on Hotel Bookings for Priceline declined, from 39% in 2007 to 17% in 2014. A decline in share of U.S. merchant bookings as a result of rapid growth in international markets, where the agency model of bookings is more popular, has driven revenue margins lower. In the nearest future the number of people using Priceline will decline because of pressure from Asia-Pacific booking segment. Furthermore, it seems that the revenue margin on Hotel Bookings will continue declining, albeit at a slower rate.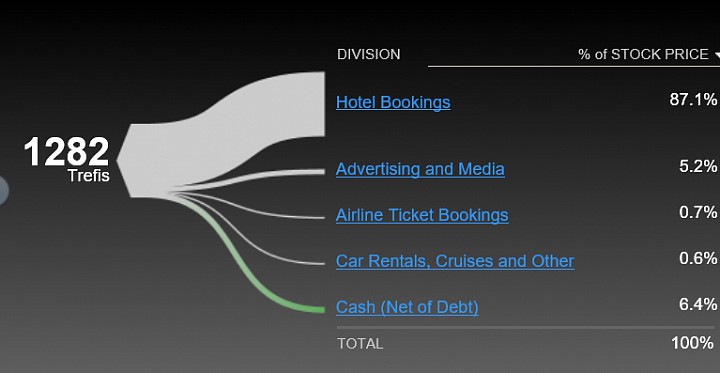 Now, let looks at the main problems which Priceline has.
First problem is that Priceline has a really high pressure from Asian market. Nowadays, Asian segment of online booking grow very fast and becoming more international than it was like five years ago. Furthermore, growth not only segments of booking, but also the Asian economy, which mean that Asians will become richer. People in Asia will prefer Asian because of specific targeting companies which will be more convenient for people there.
Second problem is that Priceline has a pressure from different market gorillas such as Google or Yandex (on Russian market especially). Recently, Google launched it new project connecting with buying flight tickets online. Moreover, this news really reflects on Priceline. Stock price sharply decrease after this news. Furthermore, this news hurt Priceline so much also because stock price is very high and the number of stockholders not so many, but they owned a really high amount of stocks. So, it means that if one investor decided to sell his/her stock it will harm market much stronger, than if the Priceline would has a more stocks but smaller price (dilute the shares).
In conclusion of analyses I am strongly recommended to SELL Priceline's stocks in short run.It is really competitive segments were so many market giants is coming. It is logically, that investor will react on news very fast (each investor could fall the Priceline stock price). To becoming less risky, Priceline should dilute shares, but they will not do it. It will increase volatility of Priceline stock and also reduce the power of main shareholders.